BISTRO BLINDS
Bistros blinds are the perfect "all weather blind" choice for any Australian home
No FUSS! – WE WILL MATCH OR BEAT ANY GENUINE QUOTE.
Bistro blinds are an ideal solution for outdoor spaces. They offer privacy and protection from the weather without enclosing your outdoor area to the outside world.
Our range of outdoor bistro blinds includes everything from patio shades to balcony blinds, cafe blinds, and outdoor roller blinds. Furthermore, at Open N Shut, we can even help you choose the right type of blind for your outdoor bistro space based on your needs and budget.
So, if you are looking for the best outdoor bistro blinds in South Australia or Perth at the best price, look no further than Open N Shut!
Bistro Blinds, Shade Screens or Outdoor Blinds?
Bistro blinds are also known as "shade screens" because they provide benefits like protection from sunlight and weather and complete privacy.
These shades are typically made from fabric that looks like a window screen and installed over an existing window rather than located in a wall or ceiling.
At the same time, bistro blinds are also known as Outdoor blinds, Outdoor roller blinds and Cafe blinds.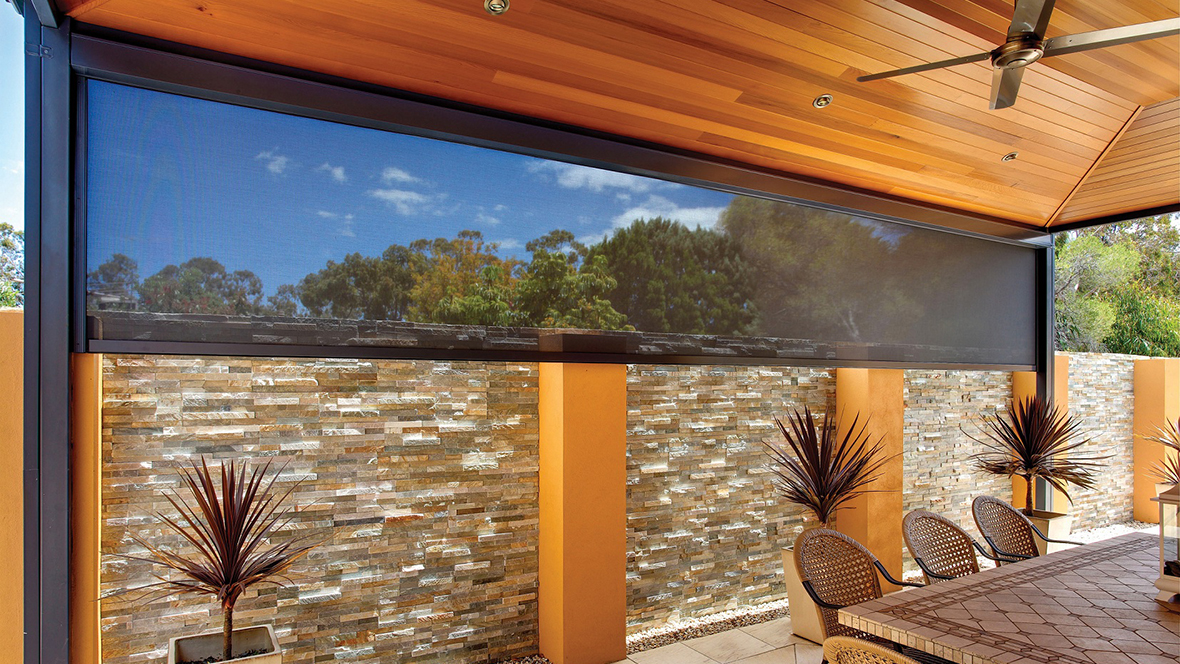 What are the advantages of having shade in your outdoor area?
Nowadays, when you think about outdoor living, one thing is clear: shade is key!
Actually, shade blinds offer many advantages and are a great way to keep your outdoor space cool and comfortable, especially during the summer months. Moreover, it also prevents your furniture from getting too hot and fading in the sunshine.
For example, on a sunny day, the weather can beat down on you and will be really hard to enjoy your time outside. That is why having a bistro shade in your outdoor area can help.
Bistro blinds can protect you from the heat, create a more serene environment and make it more comfortable and relaxed and basically, will help you enjoy your outdoor area.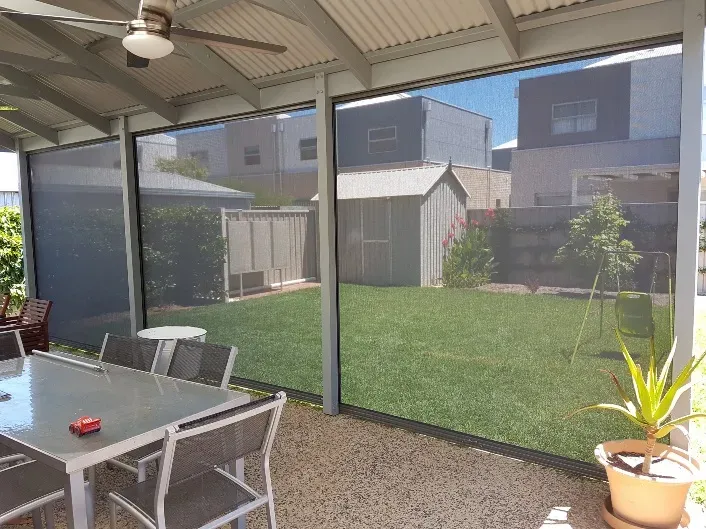 Our range of fabrics is highly durable for the Australian outdoor LIVING
At Open N Shut, we will help you choose from a range of colours and fabrics, including mesh and blackout blinds. Our team of experts will suggest the best option for you depending on your needs and the space you are covering. 
To manufacture our bistro blinds, we use a market-leading PVC-coated polyester that blocks and reflects up to 95% of solar energy. Also, you can opt for 99% blackout at a higher cost to have the maximum block of shade available while still allowing air to pass through, helping to create a cooler, more comfortable environment.
So, if you live in an area with lots of sunlight, it might be best to get a light-filtering material that allows some light through but still provides privacy. If there are large windows or doors where people can see into your home, consider getting mesh bistro blinds made with darker materials so that no one can see inside.
95% Blackout: Outdoor Roller Blind Material Colour Options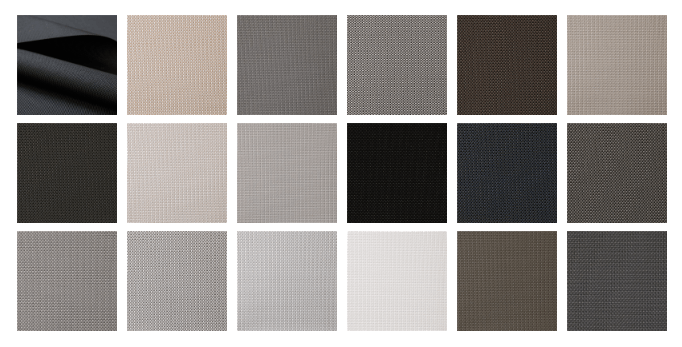 99% Blackout: Outdoor Roller Blind Material Colour Options

Types of Outdoor Blinds:  Bistro Blinds, Cafe Blinds, Alfresco Blinds, Veranda Blinds, Clear PVC Blinds, Pergola Blinds, Ziptrack Blinds & Patio Blinds. These are all names for blinds and are often used when describing blinds in outdoor living areas.
Outdoor Blind Materials:  PVC outdoor blinds provide a weatherproof seal, while mesh outdoor blinds allow air circulation throughout the area. Meanwhile, mesh outdoor fabric blinds protect from the harsh Adelaide or Perth climate and have a cooling effect.
Manual Outdoor Blinds or Automatic Blinds:  Options include manual outdoor blinds with a simple pulley system, or choose a remote control blind option for ease of use.
Is it possible to control smart bistro blinds from an app on your phone?
Yes, it is possible!
Smart bistro blinds are part of our options and are easy to use with the home automation control types allowing any person from your household to have control of the bistro blinds. In fact, any of you can operate them with an app on the phone.
At Open N Shut, we also have wireless remote outdoor blinds, and hand-operated (manual outdoor blinds).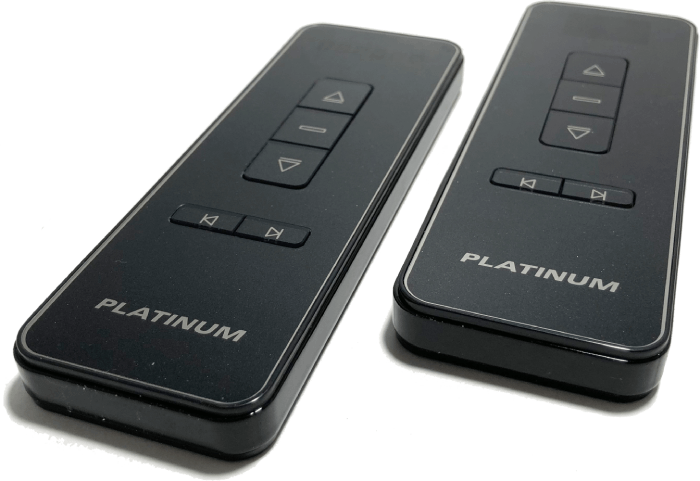 How to install bistro blinds?
We highly recommend using Open N Shut professional outdoor blind installers as part of our FREE quote measure and install service rather than providing advice on how to install bistro blinds yourself.
Actually, the bistro blinds have different components and parts, including the side panels, front and back rail, the tilt rod and more. Therefore, it is important that these all fit together perfectly and are correctly installed in order to achieve an aesthetically pleasing finish.
At Open N Shut, we have over 20 years of experience installing bistro blinds in Adelaide & Perth. So if you would like to know more about how we can help with your outdoor living project, please don't hesitate to fill up the contact form. We will be happy to discuss options!
MESH blinds vs pvc blinds

From our experience, we can say that PVC bistro blinds are not a good idea compared to fabric materials because:
– They don't breathe, so they can trap moisture in your windows and make them more likely to get mouldy
– PVC bistro blinds are more durable than fabric, so they'll fade with time, which can look dull
– They don't block out as much light as fabric, so they'll let in more heat if you live in a warm area
– PVC bistro blinds are more expensive than fabric, so they're not a good choice if you want to save money
– Cleaning pvc bistro blinds is hard and makes them less hygienic than fabric.
– Cleaning mesh blinds is way easier, just follow our eight tips on how to clean outdoor roller blinds.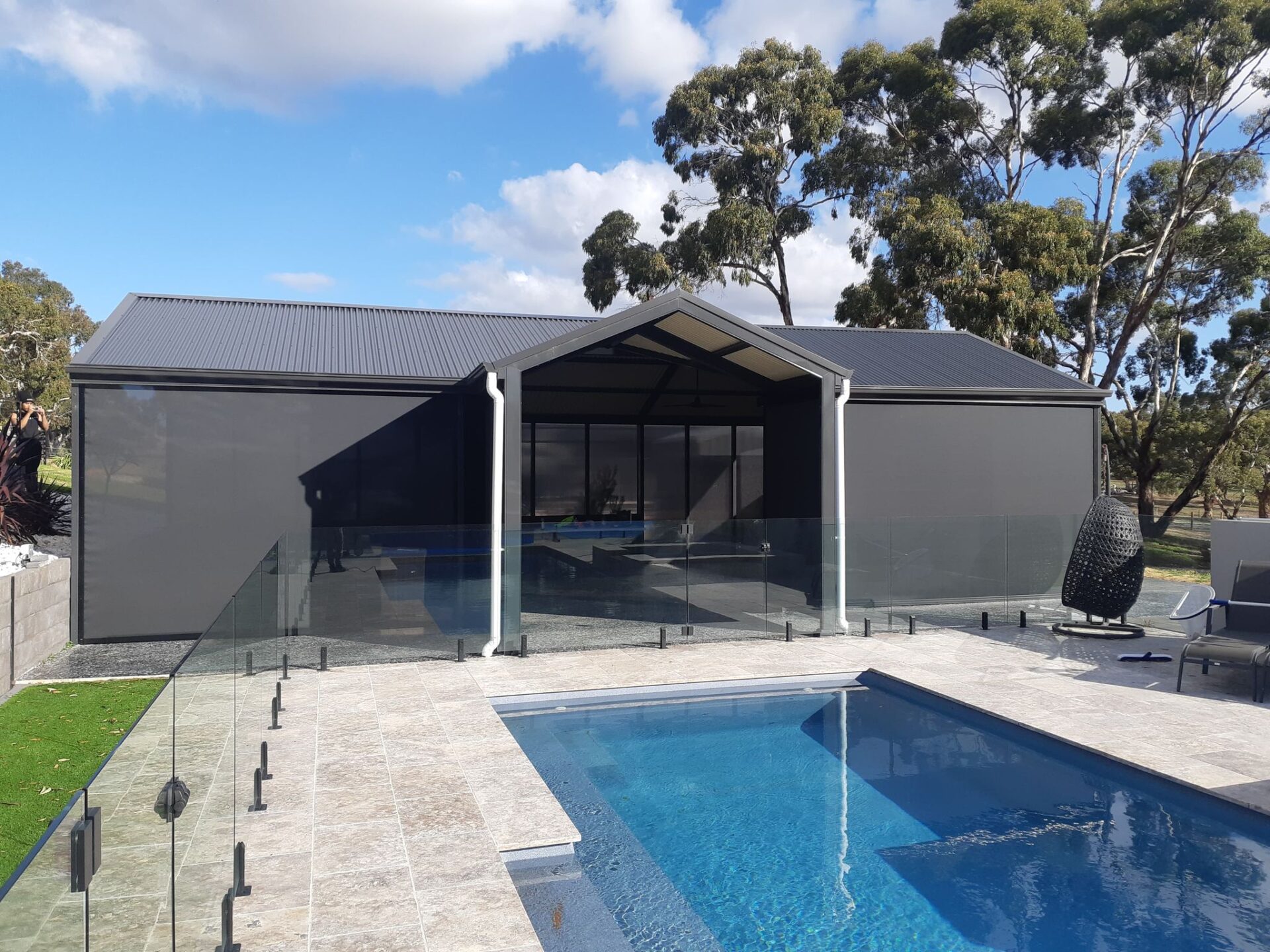 Outdoor BISTRO blinds Adelaide & Perth

We have offices in Adelaide and Perth. We come to you, with our mobile sales teams and will give a free quote and measure for you.
Give us a call or get a quote using our contact form and we will be in touch.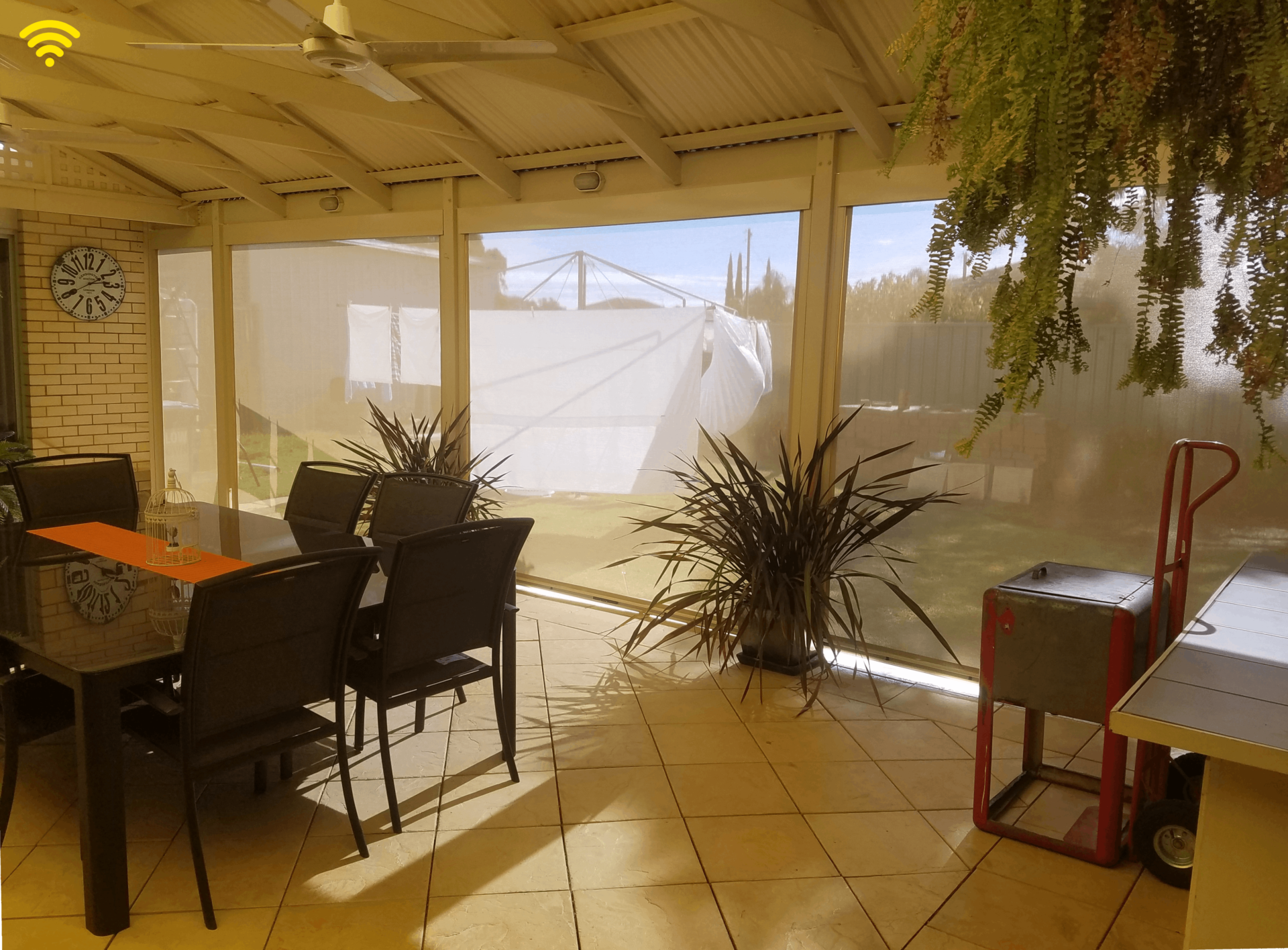 Is it easy to maintain and clean outdoor bistro blinds?
Yes! check out our latest post on cleaning outdoor blinds for more information on how to maintain the fabric and ensure it is maintained correctly and lasts longer. You will learn that it is very easy compared to PVC or plastic outdoor blinds!