number one source for Commercial Roller Shutters Adelaide
At Open N Shut, we specialise in supplying and installing quality commercial roller shutters suitable for commercial and industrial premises. These roller shutters are a great option to enhance the security levels of your business.
We proudly service a wide range of customers within Adelaide and near country areas.
BENEFITS OF COMMERCIAL SHUTTERS:
Whether your decision on your business is to keep it:
cool in summer
warm in winter
increase your security
At Open N Shut, we will advise you on the best solution at the best price.
Every client is important to our business; we have built our success on top-quality products and outstanding service to our customers. Contact us today and request your FREE measurement and quote!
Bushfire Rated Shutters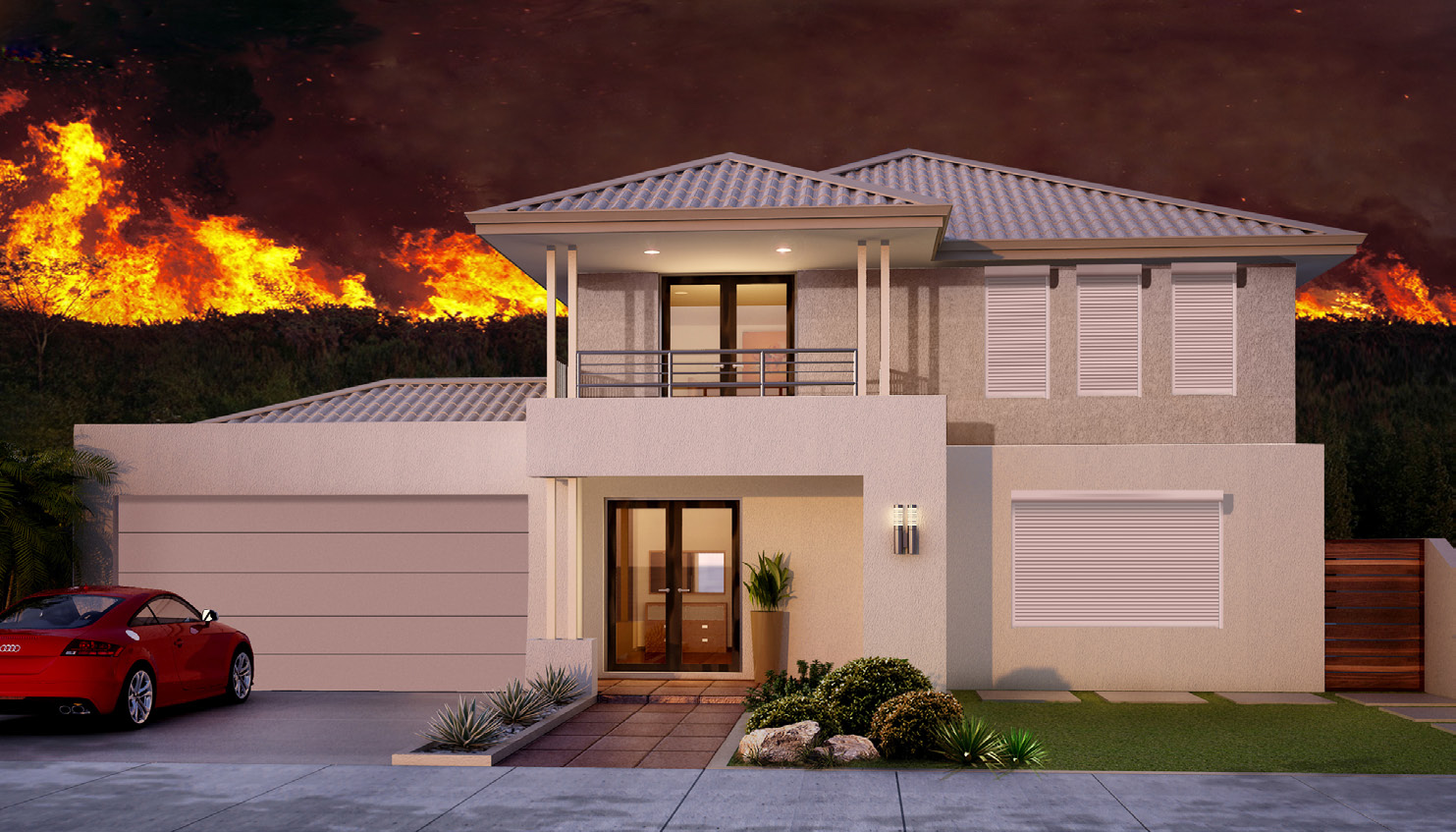 The Bushfire-rated is ideal for residential or commercial use, particularly in areas prone to fire hazards, making it the ideal option for BAL 40-rated Fire Shutters. Manufactured to the highest standards with state-of-the-art equipment, the Bush Fire Rated profile is available in a 40mm curved profile. The Bush Fire Rated has superior strength offering increased security and performance.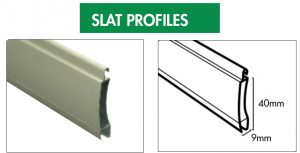 The overall profile appearance is clean and stylish with only a slight "V" groove line on the convex side. Available in several long-lasting and fade-resistant Interpon coatings or a natural anodized finish, the Bush Fire Rated Profile can also be powder coated in a colour of your choice.
It is common knowledge that hot or burning embers entering the home during a bushfire is a major factor in the ignition of the building itself. These Bushfire Roller Shutters have been credited with saving homes from burning to the ground when other surrounding properties were not so fortunate.
The Bushfire BAL 40 Fire Shutters have been extensively tested by the CSIRO under severe bushfire simulated conditions and proved to be able to withstand a maximum radiant heat exposure of 40kw/m2 after 60 minutes. As no ignition or flaming was observed throughout the testing the Bush Fire Shutter has received a Bushfire Attack Level (BAL) of 40.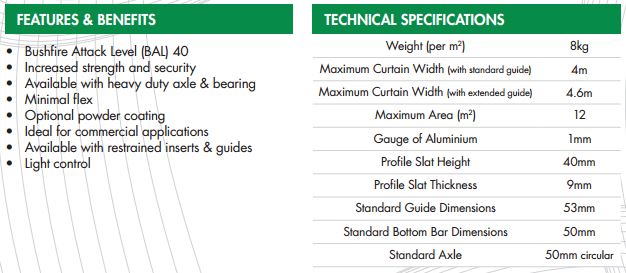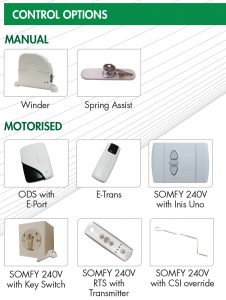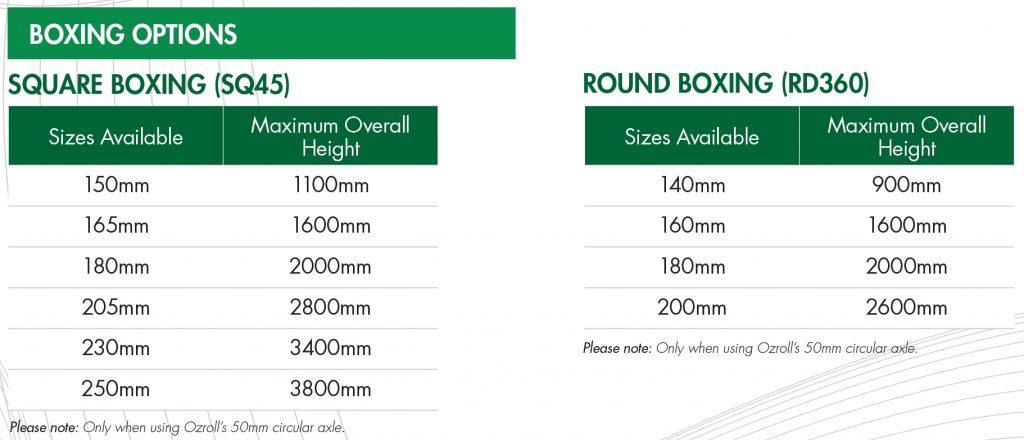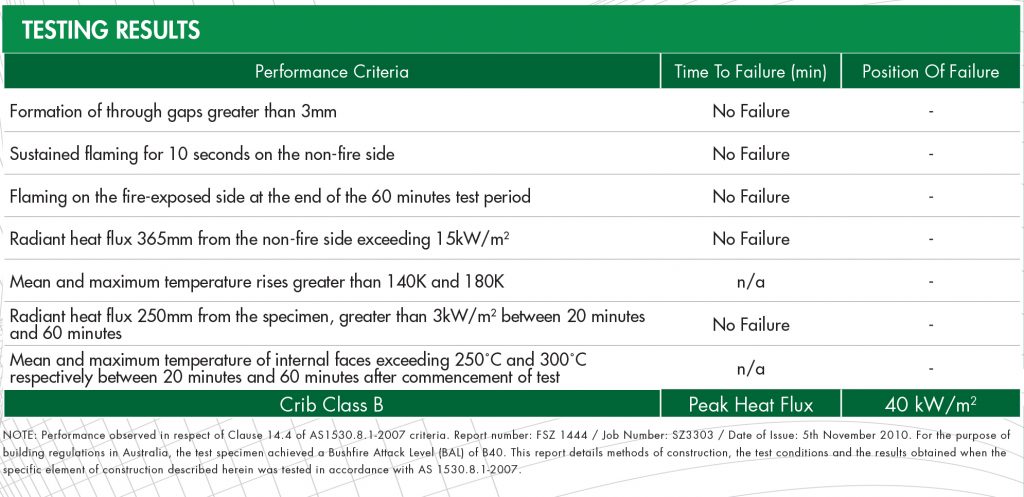 Cyclone Rated Shutters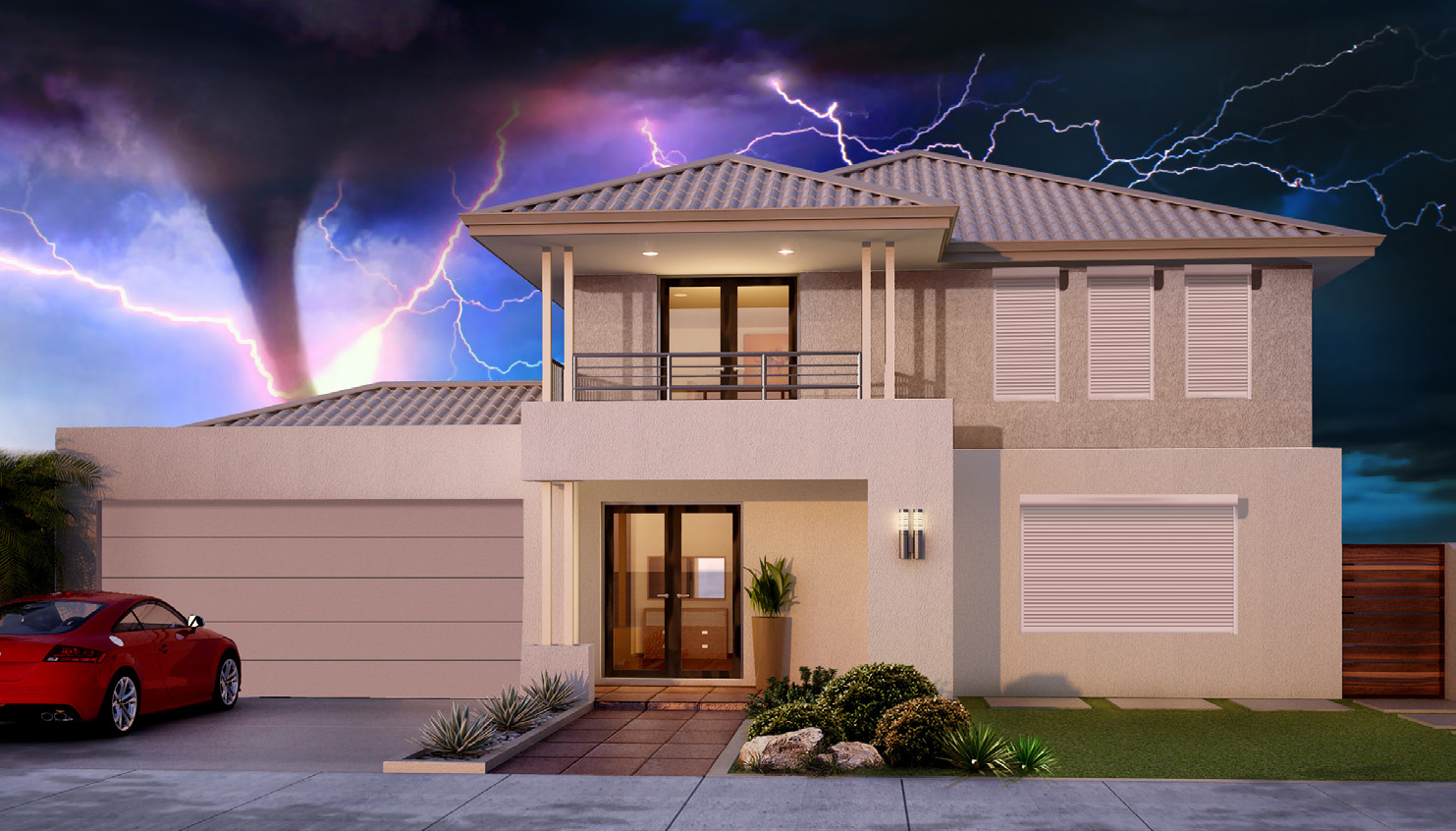 Since its inception our Cyclone Rated has consistently proven to be a high quality, robust and well-accepted profile so therein provided the perfect solid platform on which to develop the Cyclone-rated profile as an option for a Storm Shutter. The development and introduction of High-Density Foam (HDF) offer remarkable advantages where there is high wind or high risk. The HDF is injected into the slat profile under controlled conditions during the manufacturing roll-forming process.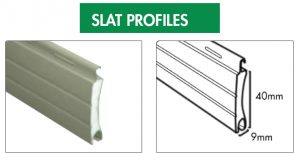 The Cyclone Rated is available in both restrained and non-restrained options. Our HDF-filled profile combined with restrained guides has been tested successfully to meet cyclone category 3 regulations, while the HDF unrestrained provides an option with standard materials where extra strength and security are required.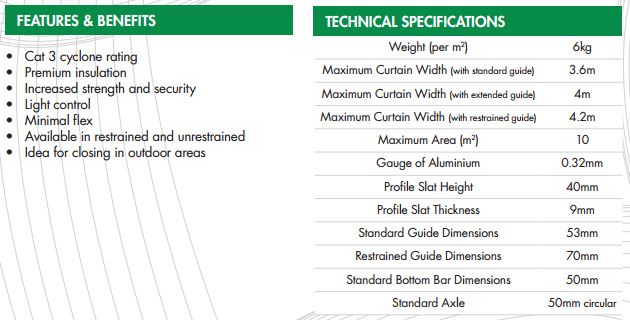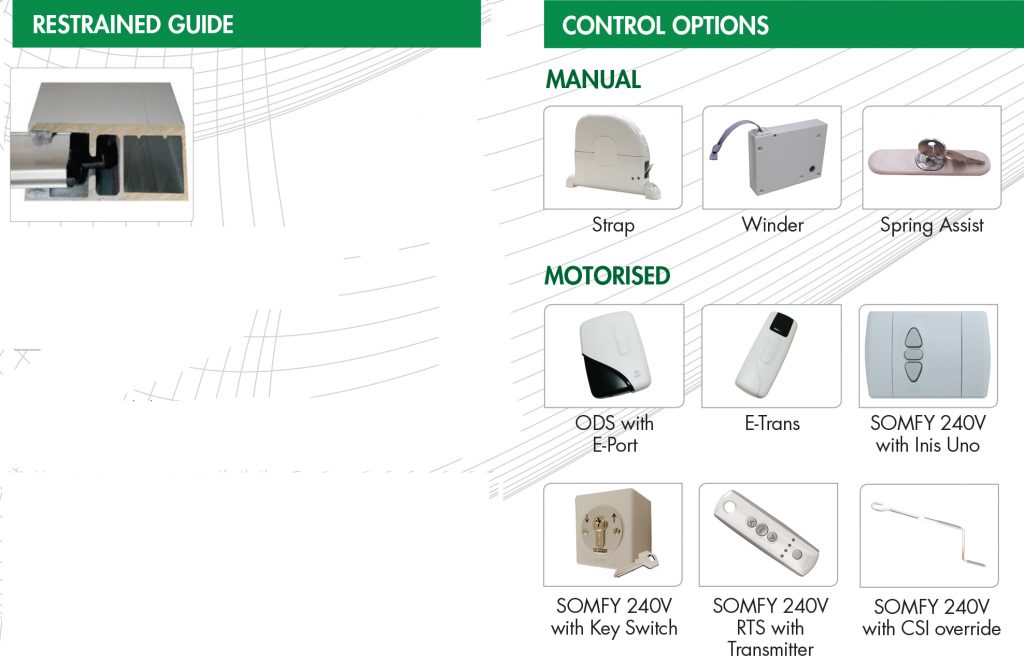 Widespan Series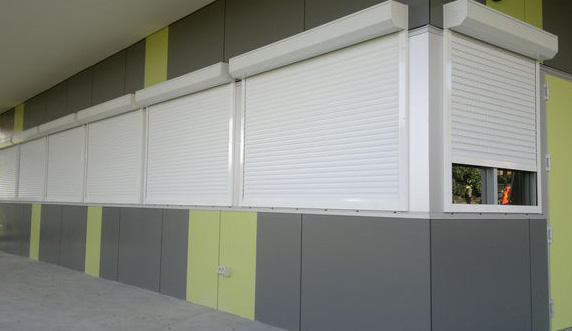 The Wide Span Series profile is a double-walled cavity with PU foam injected during the roll-forming process. This profile is available for use on openings up to 50mts larger than our standard domestic profiles while maintaining the same level of strength and insulation qualities.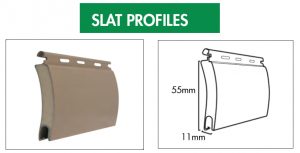 As an Australian Roller Shutter Manufacturer, we realize it is important to be able to offer a diverse range of products to provide a diverse range of solutions in this harsh climate.
The Wide Span Series is a curved profile that uses a minimal head box size, making it an ideal substitute for garage doors or commercial door applications where room for roll-up is limited. Available in multiple colours, the Widespan Series has 2 profile lines on the convex side with a smooth finish on the concave.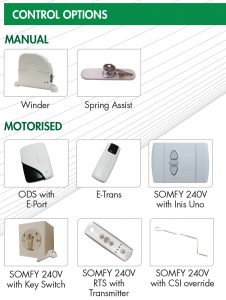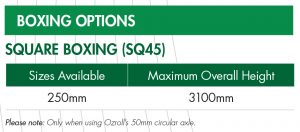 Paul Vafiades
7. November, 2023.
Great team from start to finish work was excellent would recommend them to anyone
Shani S
28. October, 2023.
Open N Shut were fabulous - good price, great service, and I'm really happy with my new roller shutter and screen door. Definitely recommend.
Mathew Devine
14. September, 2023.
Wanted new roller shutters, so I contacted Open N Shut. It's really quick to get someone out to me . The person who arrived (Will) explained everything very well and I even got an EOFY discount. All were made to my requirements in SA. All were delivered and installed in no time. Highly recommended
Anthony White
31. August, 2023.
Great choice if you're looking for shutters and blinds. Highly recommend. Great customer service, good workmanship and friendly people. It's a rarity these days. They will be back to do more work in the future.
Chris Kelly
17. August, 2023.
I highly recommend this fantastic family owned company! I have used them multiple times now for screen doors and blinds and have always been happy with every aspect - workmanship, price, professionalism and communication. 😊🙌
Jodie Watson
17. August, 2023.
I had Open N Shut come out and install a security screen for my front door and two roller shutters. Great service from the quote right through to installation. No mess left behind, quick turnaround and unobtrusive installation. Highly recommend. I'll be back for my internal roller blinds 😀
Karen Squire
5. August, 2023.
I had a shutter installed by Open N Shut 3 years ago, the service and product supplied I can not fault. Recently decided to install motorised black cafe blinds on the patio and another shutter on the front of the house. I again went to Open N Shut. From quoting to installing the communication, service and installation on every aspect was 10/10. Highly recommended.
get in touch with us today and find out how much you can save with Open'N'Shut
You are dealing directly with the factory, which means huge savings
We offer 50-months interest free finance with no deposit
Adelaide's largest independent manufacturer of roller shutters
Minimum 5-year quality guarantee
100% Australian made roller shutter
We match or beat all genuine quotes
We provide all roller shutter parts and repairs