When it comes to outdoor areas, there is no better time than now to get inspired!
As the weather warms up and summer approaches, we are all looking for ways to take advantage of the great outdoors and make our homes even more enjoyable. So if you are ready to upgrade your outdoor space, these ideas will inspire you.
Let's dive in!
Your outdoor living area is where you can relax and escape the stresses of your hectic lifestyle. That's why you want to make sure that this is a place where you can truly relax and enjoy the fresh air. To make this happen, you need a well-designed outdoor area that reflects your personality and style.
THINK IN TERMS OF SPACE, AND SUNLIGHT
The first step in designing an outdoor living space is to determine how much space you have available. You will also want to consider how much sunlight reaches the area during different times of day and year. You may also want to consider whether or not there are any trees or other obstacles that could block sunlight from reaching your outdoor space during certain times of the day.
Next, you need to decide the type of furniture and accessories you want in your outdoor living space. Nowadays, there are many options available including sofas, chairs, tables, rugs and more! Also, a fire pit could be a fantastic addition to enlighten the ambience and add some heat and a focal point to any alfresco.
However, be wary, as furniture can fade in the sun unless you have outdoor roller blinds or outdoor blind protection. Also, in terms of weather, weatherproof blinds are also a good idea to keep the rain away from outdoor furnishings.
Extra tip:
Moreover, you may also want to consider adding some plants or lighting fixtures for a cosier area and safety purposes if it gets dark while you relax outdoors during nighttime hours!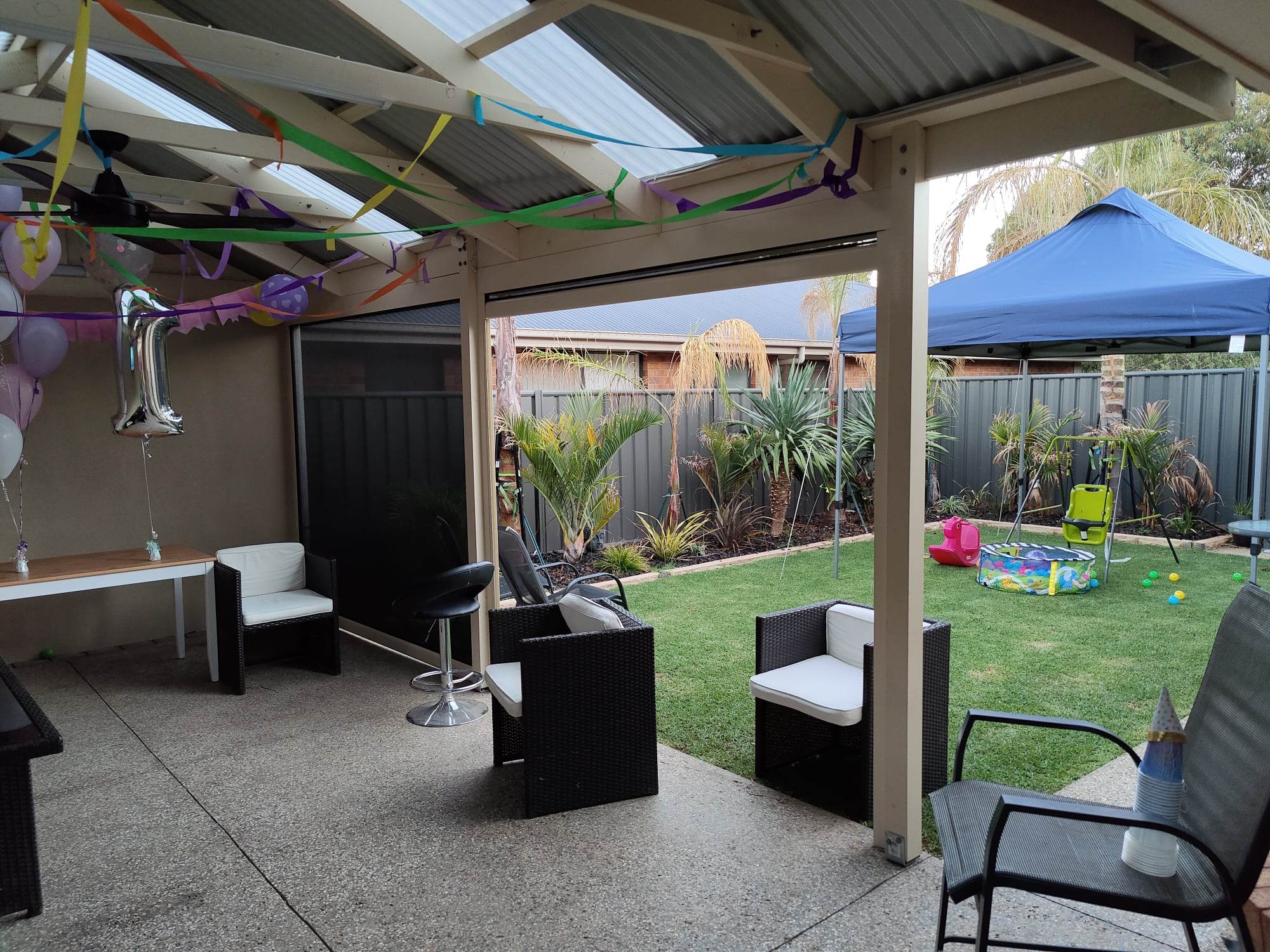 As you may know, living spaces and outdoor areas are an important part of our lives. In fact, they provide us with a sense of home, but they can also be the most underused part of our homes. So, if you are looking to expand your living space and make it more functional and comfortable, then consider investing in some new furniture for your backyard or garden.
The outdoors is a perfect place to relax from the daily grind and enjoy your favourite sports. For that reason, you could also consider adding some entertainment systems like televisions in your backyard. 
In particular, televisions are a great addition to your outdoor space, whether is a poolside patio or a deck. Picture this: with a TV outside, you can watch football, rugby, or soccer games in the comfort of your own home with friends and family. It's also an excellent way to create an outside vibe and atmosphere in your own home and create lovely memories.
Even though, if you love watching sports but don't want to spend lots of money at bars to do so, then having a TV outside is the perfect solution! It will save you time and money while still providing you with a great experience.
Did we mention that watching outdoors is more enjoyable than watching indoors? 
You'll be able to cosy up on a blanket under the stars with friends while catching up on the latest game highlights!
In the same way, your pets will love it too! If they are stuck outdoors they will enjoy the company of a human who wants to watch the game outside whilst other adults or kids are inside. It's a breakaway area for anyone to enjoy.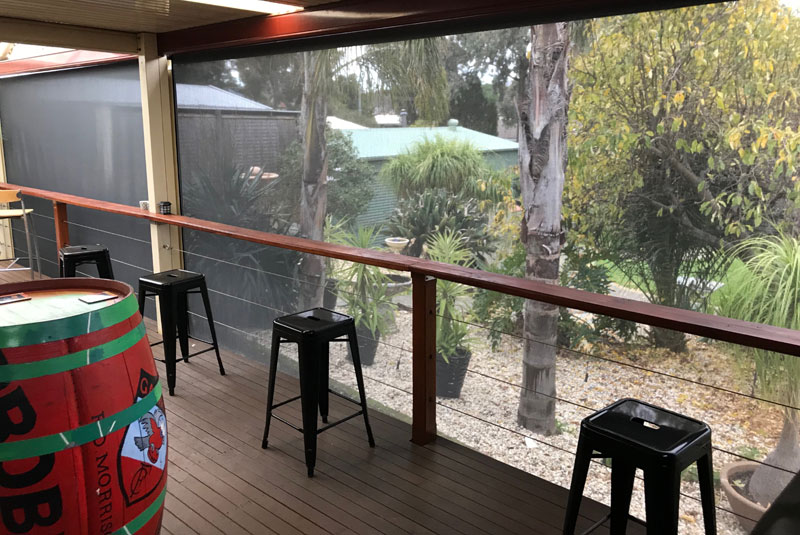 Outdoor gaming area ideas
Gaming consoles if they are within budget constraints but still want something fun for their kids who might play outside with their friends all day long!
Furthermore, there is nothing like a good karaoke session to bring everyone together. Whether it is with friends or just the family, the kids will have a blast with the latest game console technology while they sing their hearts out. Even better, you will have the chance to relax and enjoy some peace and quiet as you sip your favourite drink on the patio.
In the same way, an outdoor gaming area is not only for fun activities for everyone in the family but also helps keep them active. You can set up a ping pong table or maybe even a basketball hoop so they can be bustling while they play their favourite games. You will be able to know that they are staying fit and getting strong while enjoying themselves at the same time!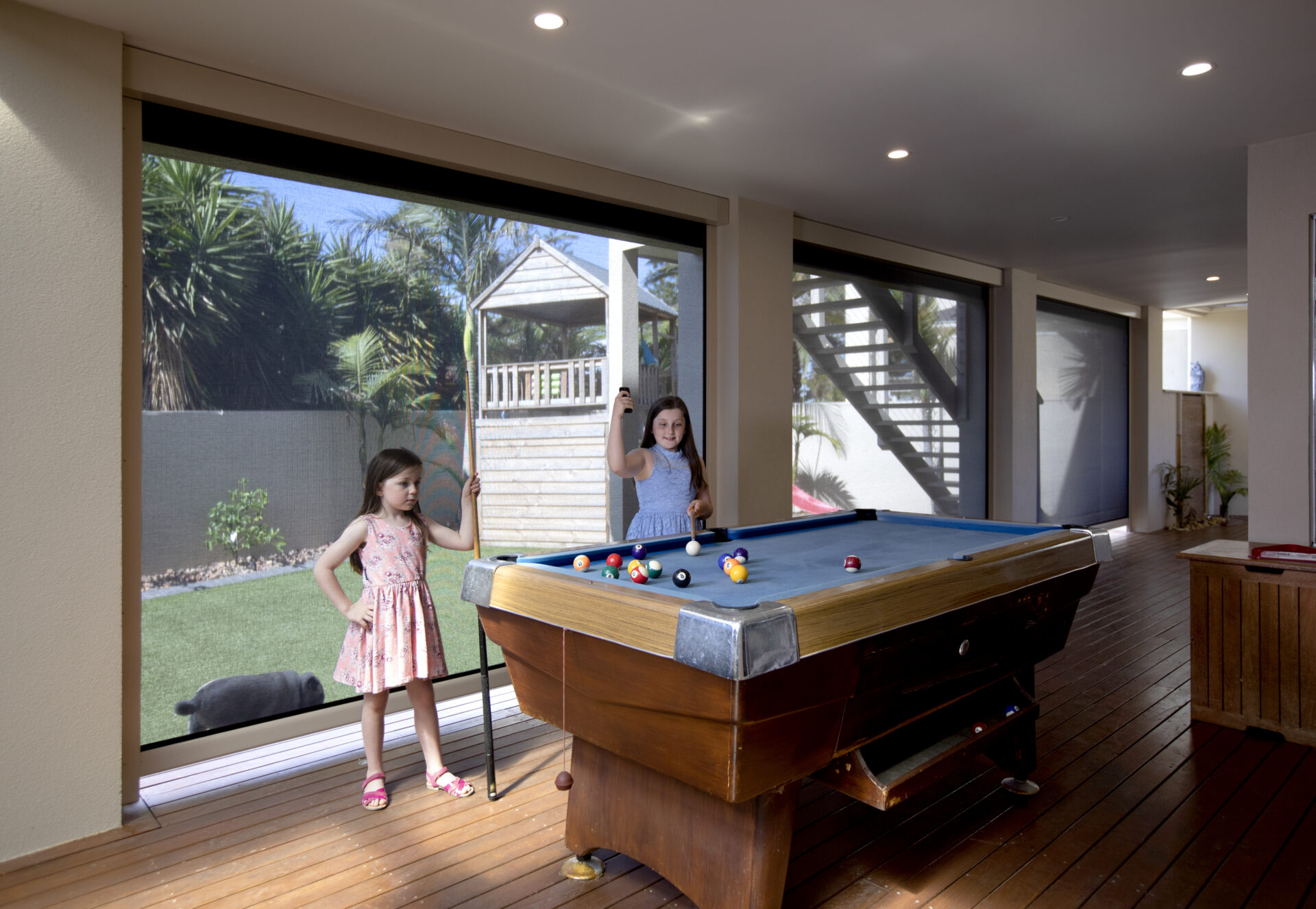 Outdoor Furniture Ideas
If you choose not to protect your outdoor furniture from the sun and rain, using weatherproof furniture might be a good idea.
Weatherproof furniture is the perfect addition to any outdoor space. If you want to relax in your backyard or garden but don't want to get caught in the rain, weatherproof furniture will protect you from the elements.
Using outdoor blinds or having the furniture under a pergola or alfresco can avoid sun damage, which will cause furniture to become very aged quickly. Weatherproof furniture comes in many forms, including dining tables and chair covers.
If you want to maintain the quality of your outdoor furniture, then it is a good idea to invest in some covers.
We could say that furniture covers protect against dust, dirt, UV rays and pet hair. They also help keep your cushions clean so they don't get stained by food or drink spills while not being used.
If you have expensive patio furniture that needs extra protection from water damage (like rain), consider investing in a waterproof cover that comes with straps that allow you to secure them tightly around the legs of each piece of furniture so no water can seep through any cracks during heavy rains or snowstorms!
Outdoor dining furniture is the perfect way to turn your backyard into a place for entertaining or relaxing with friends and family. Whether you are looking for patio sets, dining tables with chairs, or even modular outdoor kitchens that include everything from grills to sinks–there is only your imagination as the limit to what you can do in your backyard area.
For example, Pizza ovens, mini-bars, fridges and chest freezers are also popular for households in Australia. At the same time, a solid dining table is also a good choice for others, whilst plastic furniture is practical to move around and change up your outdoor patio area.
Relaxing Furniture for the Outdoors

Hammocks: A hammock is a perfect place to relax outdoors, whether you're reading a book on your own or snuggling up with your partner.
Loungers and swings: If you're looking for something more active than a hammock, then consider loungers and swings–they allow you to lie back while still being able to move around quickly if needed!
Outdoor beds: If sleeping outdoors sounds appealing but you don't want to worry about bugs or rain getting into your bedding at night (or during the day), then consider buying an outdoor bed frame with mosquito netting attached so that no one needs worry about bugs crawling over them while sleeping off their lunch break outside under the sun! Even better is protecting the whole outdoor area and not just the bed with outdoor roller blinds!
Keep your outdoor furniture clean, protected, and stylish.
Keep your outdoor furniture clean.
Protect your outdoor furniture from the elements.
Style your outdoor furniture to match the rest of your home.
If you don't want to buy a cover or want something more affordable, try using an old blanket or sheet instead!
We hope you found these tips helpful and that they give you a little inspiration for your next outdoor project. Whether it's an old table or chairs that need some TLC, a new set of cushions for your patio chairs, or simply a new colour scheme for your backyard–we wish you luck!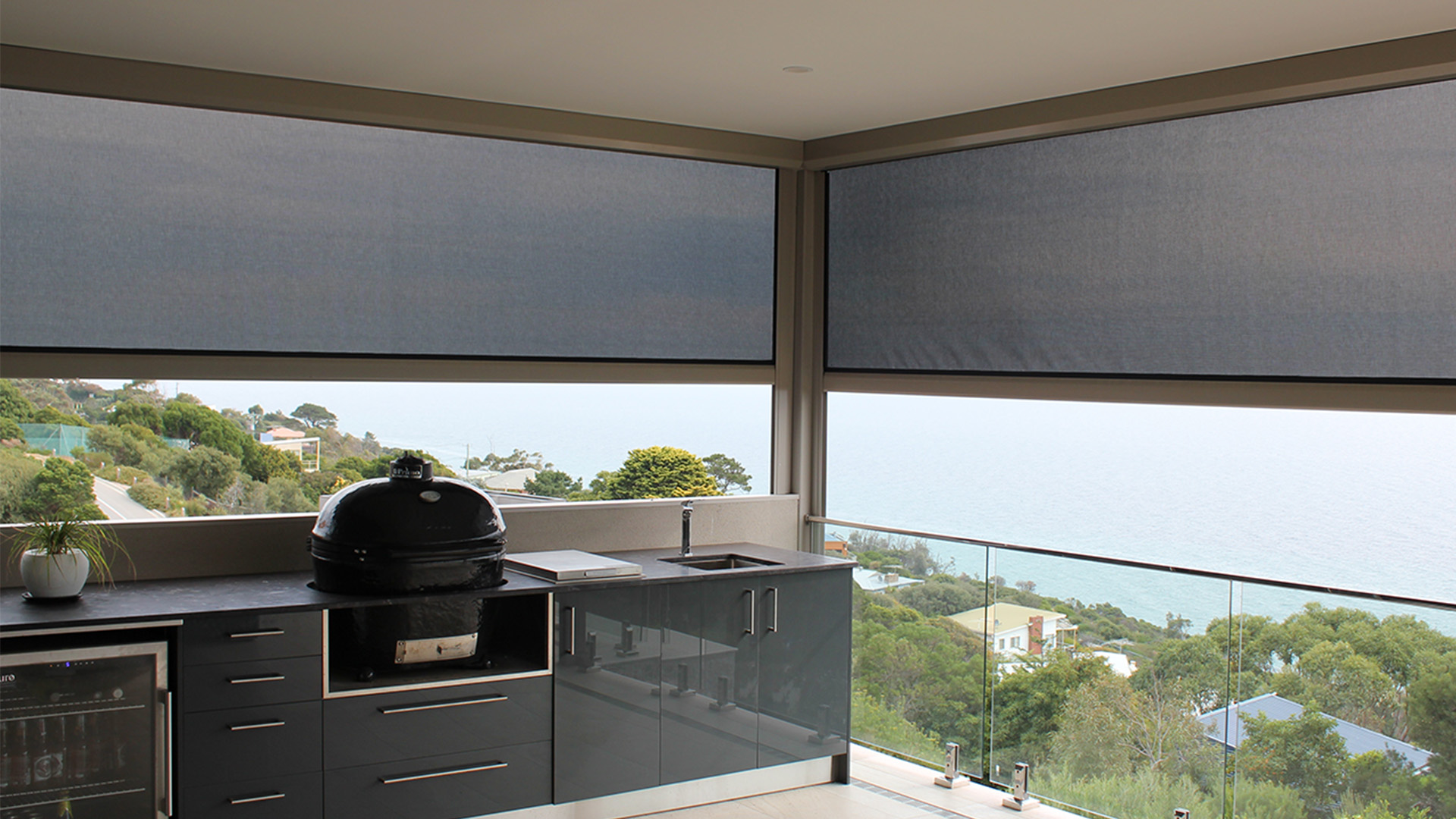 Lighting can create the perfect ambience AT NIGHT
Think also about lighting fixtures or lamps for added ambience as well as safety purposes if it gets dark while you're relaxing outdoors during nighttime hours! day long!
You may opt for LED lights to save energy or prefer hard-wired options. In any case, your outdoor area, and its space is vitally important to maximise its potential and bring the best of the outdoors in.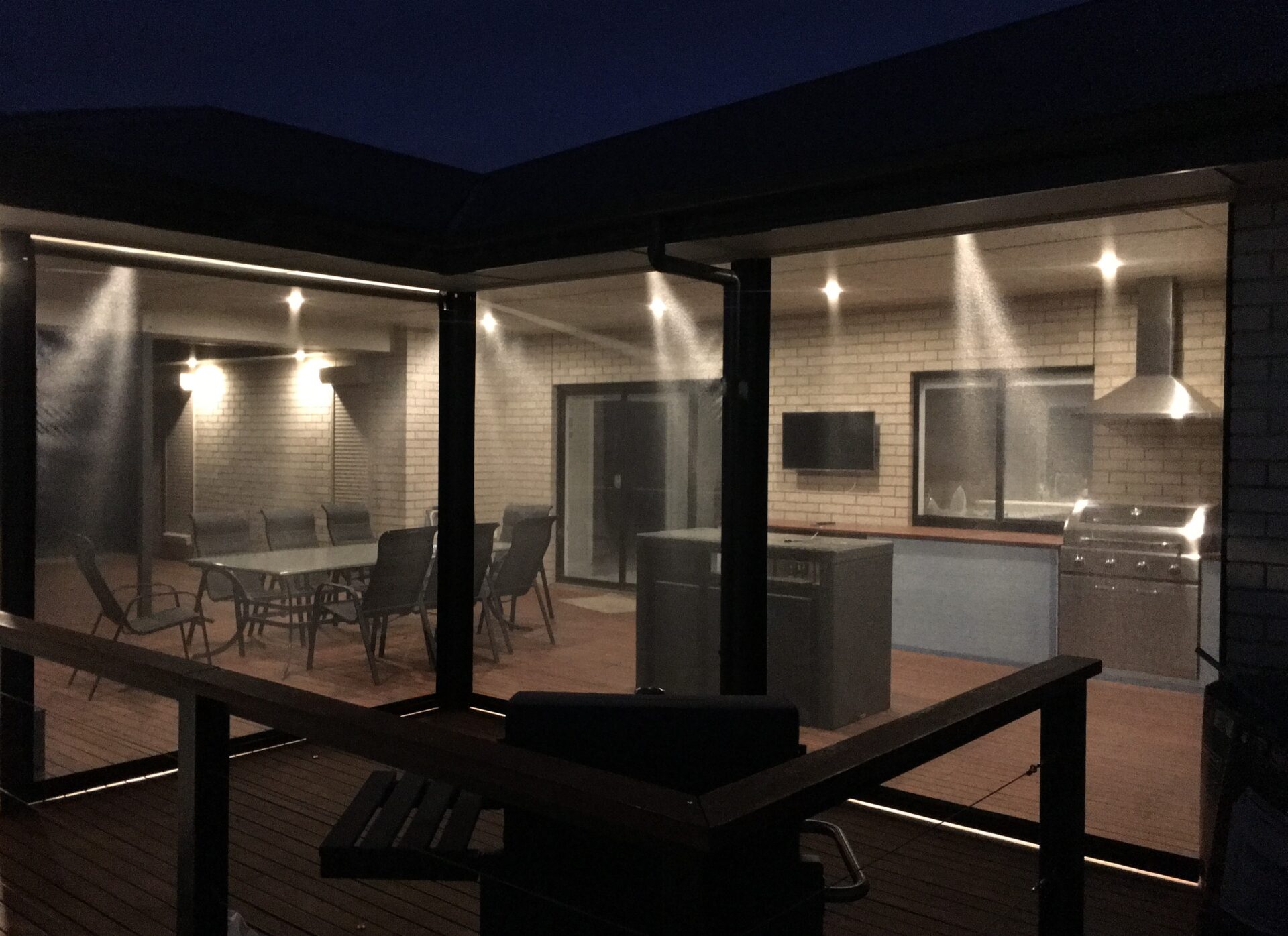 Outdoor lighting can add a lot of impact on any outdoor patio setting. A huge amount of extra space and outdoor blinds add protection from elements and bugs attracted to the light at night time.
With so many combinations of furniture, features, and additional structures like pergolas or retaining walls you can add to your outdoor area there are many ideas you can think of for your own area. Take a look through our images of jobs and see if there are any good Alfresco design ideas for you.
Notice how it is the same outdoor area with lots of different uses. You can chop and change the area based on the event, whether it is for a kid's birthday or large eating, or bar-style furniture for watching the football. Or simply maximise the backyard area for children to play.
For the cold winter months, you could add a patio heater. So your patio could be used all year round.
Outdoor roller blinds can enhance your outdoor area
You can try outdoor roller blinds to keep the sun out of your most sun-hit areas and provide a cool environment away from the scorching all-day sun it may receive through the day.
Outdoor blinds are very popular in regions of Adelaide & Perth in dry, low-humidity conditions.
At the same time, outdoor roller blinds also serve as a great way to enhance an outdoor kitchen area and have amazing potential as an outdoor dining area where bugs and heat cannot penetrate the specially designed fabrics.
Types of Outdoor Blinds – Cafe Blinds, Alfresco Blinds, Veranda Blinds, Clear PVC Blinds, Pergola Blinds & Patio Blinds. These are all names for blinds and are often used when describing blinds that are fitted to outdoor areas.
Outdoor Blind Materials – PVC outdoor Blinds provide a weatherproof seal, while mesh outdoor blinds allow the circulation of air throughout the area. Meanwhile, mesh outdoor fabric blinds protect from the harsh Adelaide or Perth climate and have a cooling effect. 
Manual Outdoor Blinds or Automatic Blinds – Options include manual spring-loaded blinds with a simple pulley system or choose a remote control blind option for ease of use.
95% Blackout: Outdoor Roller Blind Material Colour Options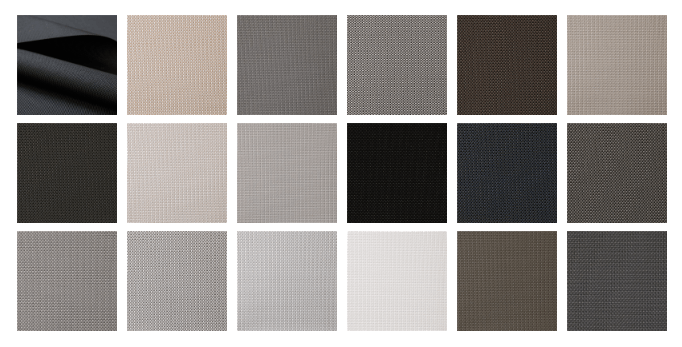 99% Blackout: Outdoor Roller Blind Material Colour Options

External Plantation Shutters for Balcony or Pergolas.
External plantation shutters can add a dramatic impact on an outdoor area. These shutters can be used as an accent piece or as your entire pergola or balcony covering, depending on the look you want to achieve. They're available in a variety of colours, sizes and styles so you can find one that matches your home perfectly.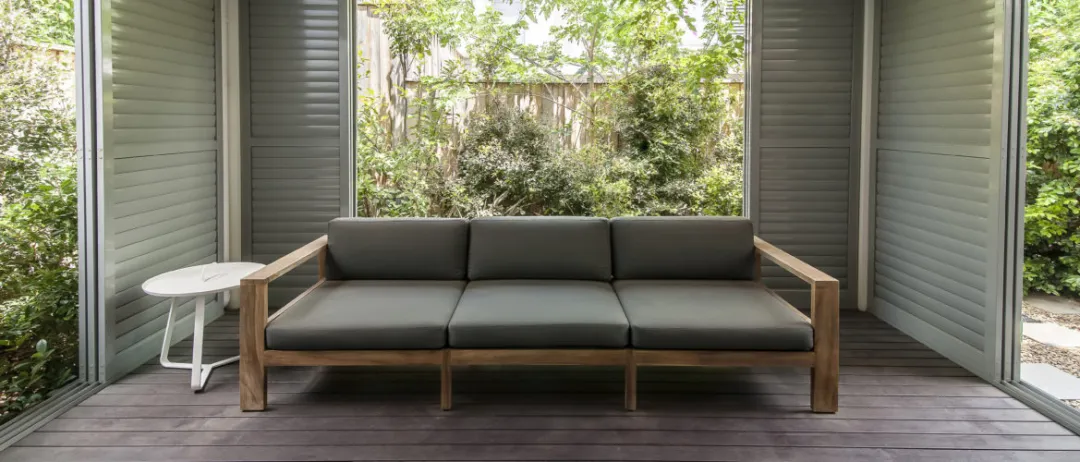 We have offices in Adelaide and Perth, Australia. We come to you, with our mobile sales teams and will give a FREE quote and measure for you.
Give us a call or get a quote using our contact form and we will be in touch.