Cafe blinds are a popular outdoor feature popular in cafes and restaurants (you might see lots of them on Jetty Rd, around the Glenelg area in Adelaide). In fact, outdoor blinds (as they are also known) can protect you from the elements while still allowing your customers to enjoy the view of the outdoors.
Also, outdoor cafe blinds come in various types and styles, so their cost may vary. However, with winter just around the corner, one of the most common questions from business owners planning to get outdoor bistro blinds is if "Are outdoor cafe blinds waterproof?" So let's explore more about them and answer the question.
What are outdoor cafe blinds?
Cafe blinds are also known as outdoor blinds, patio blinds, or bistro blinds. They are typically made of transparent PVC material or high-quality mesh fabric, allowing natural light to come in while keeping the elements out.
Furthermore, one of the benefits of these blinds is they can be manually operated or motorized for ease of use. Moreover, cafe blinds are perfect for outdoor areas such as patios, balconies, and outdoor cafes and restaurants, as they provide a comfortable outdoor environment, regardless of the weather.
Cafe blinds types:
There are three main types of cafe blinds: PVC blinds, mesh blinds and ziptrack blinds. Let's check the main features and advantages and disadvantages of them.
PVC blinds:
They have a transparent vinyl material that is waterproof and easy to clean, making them ideal for those months of the year when the rain won't stop and days are very windy.
However, one of the disadvantages of this type of blind is that the material can make the area very hot during sunny summer days.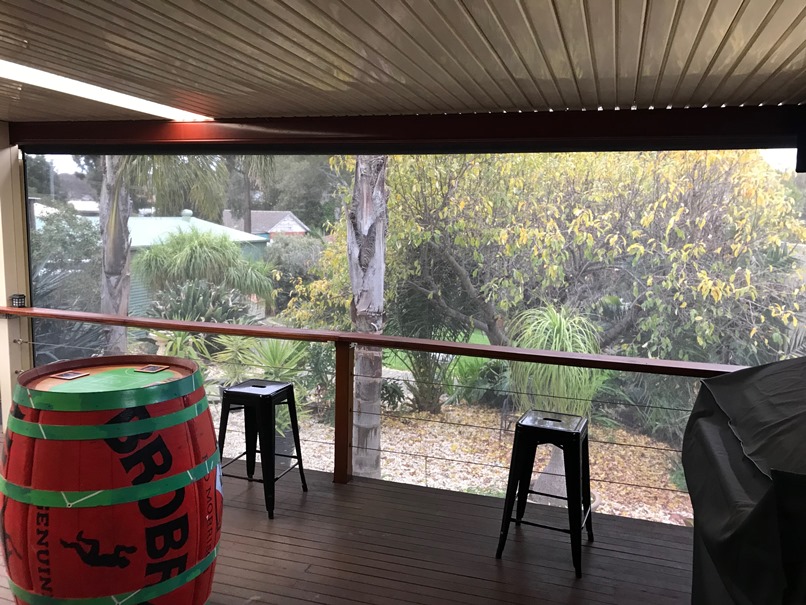 Mesh outdoor blinds:
On the other hand, mesh blinds' fabric allows airflow and blocks out UV rays offering shade protection, making them perfect for hot and sunny environments.
Even though outdoor mesh blinds are not entirely waterproof, they still offer some rain protection.
Ziptrack blinds:
They are a great addition for those looking to enjoy their outdoor area all year round without worrying about the weather. Ziptrack outdoor blinds let control the airflow and add extra privacy to your outdoor living.
Furthermore, Ziptrack outdoor blinds components are also waterproof which makes them a good option to use all year round.
So, are outdoor cafe blinds waterproof?
The answer is yes! Outdoor cafe blinds are waterproof.
PVC cafe blinds can withstand harsh weather conditions such as rain and wind, making them a fantastic option for outdoor areas with a lot of rainfall. Mesh blinds, on the other hand, are not 100% waterproof, but they can still provide a degree of protection from the rain.
Outdoor cafe blinds for winter:
When it comes to using cafe blinds in winter, they can be beneficial in keeping the warmth in and the cold out. The transparent PVC material of the blinds allows natural light to come in, which can help to warm up the area during the day. At night, all you have to do is to roll down the cafe blinds to keep the heat in, providing a comfortable outdoor environment even in the colder months.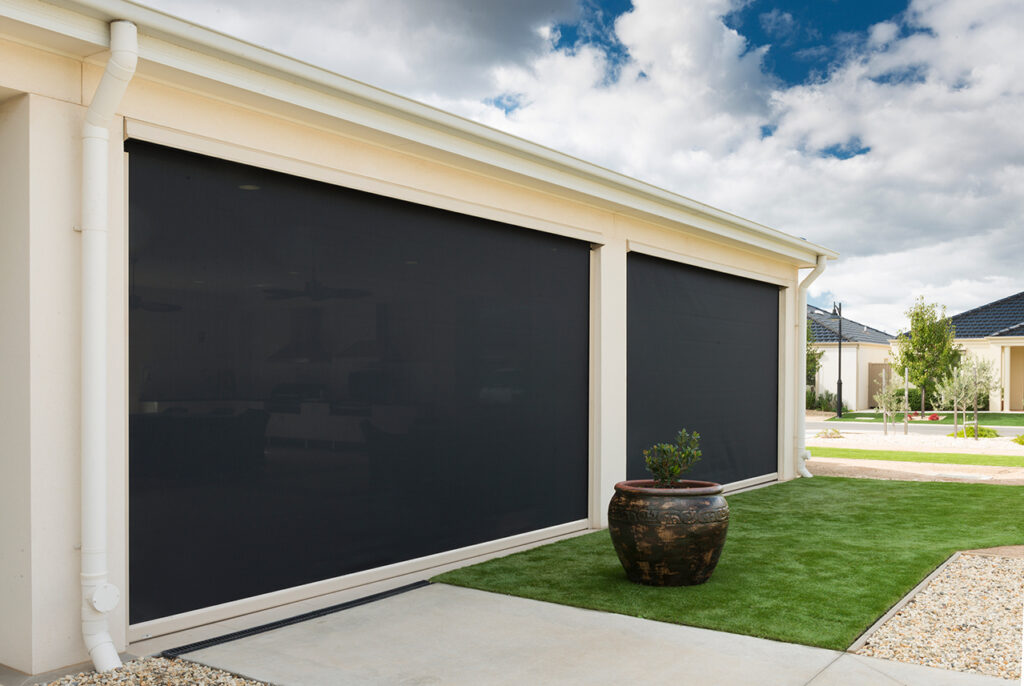 Conclusion:
In conclusion, outdoor cafe blinds are an excellent addition to any outdoor area, providing protection from the elements and creating a comfortable outdoor environment.
PVC blinds are waterproof and perfect for rainy areas, and mesh blinds are ideal for hot and sunny environments while still offering some rain protection.
Furthermore, cafe outdoor blinds are a great addition as in winter, they help to keep the warmth in and the cold out, making them a versatile and practical option for any outdoor area.
Looking for ways to take your outdoor living area to the next level? We can help!