With winter just around the corner, we will all start to feel the cold in different ways inside our homes. Keeping the house as warm as possible is one of the best options to protect yourself and your loved ones against the flu and other diseases during the chilly season. 
Fortunately, there are some things you can do to keep the home temperature under control for little or no extra cost. Also, there are some window treatments you can add to your home that will offer extensive heat loss during the colder months.
1. Seal your Doors and Windows: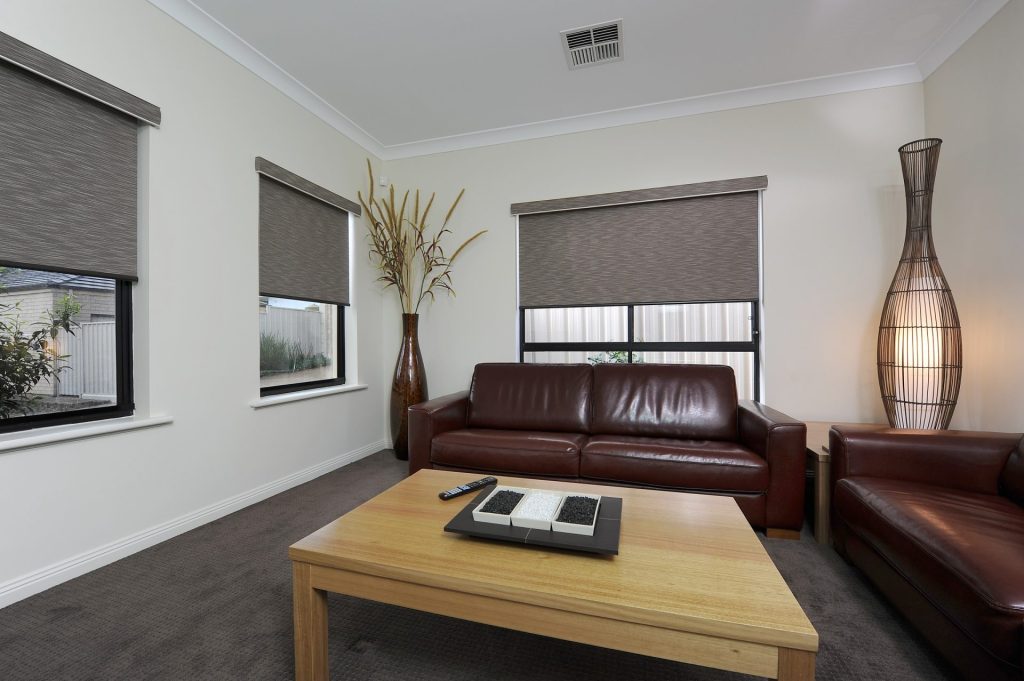 No matter how great and beautiful your windows look but if they have any small gaps, the heat inside your place will always escape through them. The result will be a colder space and an expensive energy bill by the end of winter. 
Here is a list of possible solutions to keep the heat trapped inside your home:
Draught exclusion tape

offers a very low-cost option to stop any gaps you may have around door and window fittings. Not all homes have the luxury of expertly fitted window frames or doors, or an older home may have developed warping or settling effects that can cause gaps to appear around the house. Having tape, also known as electrician tape for windows and doors, can stop any major leakages right away and is a good first step.

Roller shutters

are an affordable option to maintain the warm temperatures under control whilst also offering more great benefits. Leave your roller shutters open during the day to allow the sun's warmth enters your home. At night when they are closed, the roller shutters will keep the heat inside your place.
Other Windows Treatments:
Roller blinds

:

Roller blinds can include blackout material that will keep out the sunlight in summer and reduce draughts in winter. Thicker material is required for excluding draughts, and ensuring the edge of the fabric reaches as close to the edge of the window gap is essential for reducing airflow and draughts as much as possible. Roller blinds are a great addition to any home and provide a great impact, matching any colour scheme or design in your home.

Plantation shutters

not only add style to any room but also act as a good draught excluder to reduce airflow out the windows and keep the warm air inside. This means you will have reduced heating costs because you are losing less of the warm air in your home.

Curtains

with thick material and a high insulation factor, are a good option for some homes thanks to their good ability to keep sunlight out during the day and can increase temperatures. However, because the sunlight still gets through the window, the backs of the curtains can heat up significantly meaning the heat is not kept out at the source unlike with Roller Shutters.

On the opposite end of the scale,

sheer curtains

are also good for summer with light and airy material that offers a lot more in terms of interior design and impact on a home, making any home look high-class and desirable.
2. Control Airflow through your home
Security doors

can give you airflow options to allow warm or cold air to flow through the house whilst being able to leave your front door open without any security risk to your loved ones.

Leaving interior doors open/closed

can be a simple way to control home temperatures. If there are rooms not used during the day that naturally get cold due to lack of sunlight through the windows then, keep the door closed and zone off that section on your thermostat. Direct airflow to rooms you use in the day, and leave open any rooms that have a naturally high temperature to maximise warm airflow through the house. You will be amazed at what can be achieved by managing airflow and interior door space in this way.

Add a

ceiling fan

to your room and reverse its motion. It will help to pull cold air up and away. They are not just used to cool the place down!

Use your heater system wisely.

Try to do not to leave it on at a low temperature all day. Instead, you can turn it on 30 minutes before starting your day and at a lower temperature. You will see big savings on your energy bill when doing this.
3. Keep the cold out of your outdoor living space
Did you know that our outdoor blinds are all you need to enjoy your backyard, deck or patio during summer and over the cold season? 
Outdoor shade blinds can effectively block the chilly air from entering your outdoor living space. 
Therefore, they can help create and maintain warm indoor temperatures while allowing you to enjoy the winter with zero cold-weather-related concerns due to the materials used to fabricate them. 
If you want to know the best Outdoor Blind for your specific needs, depending on where you live, we can assure you that Adelaide outdoor blinds require a more varied temperature range as winter can reach temperatures of 0 degrees. 
Therefore, outdoor blinds in Perth will require a more versatile shade fabric capable of withstanding the hot temperatures of the Perth climate.
 What else can you do with your outdoor blind area?
Gaming area
dining area
fire pit
barbeque
swimming pool area
shaded work area
entertainment area
bar or pizza oven
shaded artificial grass zone
pet outdoor area
table tennis or football area
The options are endless, and your loved ones or friends and family will have their new outdoor haven away from the hot sunshine or the cold of the winter months.
4. Save energy and save money.
When you have enough insulation throughout your place, it can make a big difference in comfort and energy efficiency. 
Here's the thing: when one of your rooms doesn't have proper insulation, it can really affect the other rooms, it will be likely to be too cold or too hot depending on the time of the year and with it, the excessive use of your A/C or heater systems will be no good for long term costs and energy usage. 
Improve the insulation of your rooms by getting roller shutters installed to ensure that your spaces will be usable all year round despite the outdoor weather conditions. If you are still unsure how roller shutters could help with this, click here to read more about their cost-effective benefits.
Whether it's one roller shutter for your room or roller shutters for your whole house, we have you covered.
Leave your home improvements to the hands-on experts:
Adelaide and Perth weather can be very extreme depending on the time of the year. 
For example, Adelaide weather is cooler than in other regions in winter so, you will need to install roller shutters in Adelaide to keep you warmer by having less draught and reducing airflow in your home.
Perth temperatures can be even hotter in summer, which is why it's essential to minimise the sunlight coming through the windows. Roller shutters in Perth are perfect to do exactly this.
By installing Open 'N' Shut roller shutters, outdoor blinds, or any other window treatment, you can save up to 30% of your energy bills and make your home more energy-efficient with our great home improvement options! 
We specialise in window treatments in the Adelaide and Perth regions of Australia. Get in touch today and we will help you beat any quote on your home improvements.