Roller Shutters: The Ultimate Security and Insulation Solution for Your Home or Business
Roller shutters are a practical, attractive and cost-effective way to provide security and insulation to both residential and commercial buildings.
A roller shutter is a system of horizontally aligned, interlocking slats that roll up and down to form a rigid curtain over a door or a window.
The slats are usually made of galvanised steel or heavy-gauge aluminium. They are inserted into a track or guide channel that is attached to the door or window opening. The channel holds the slats in place horizontally for ease of raising and lowering the panel.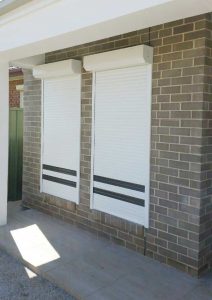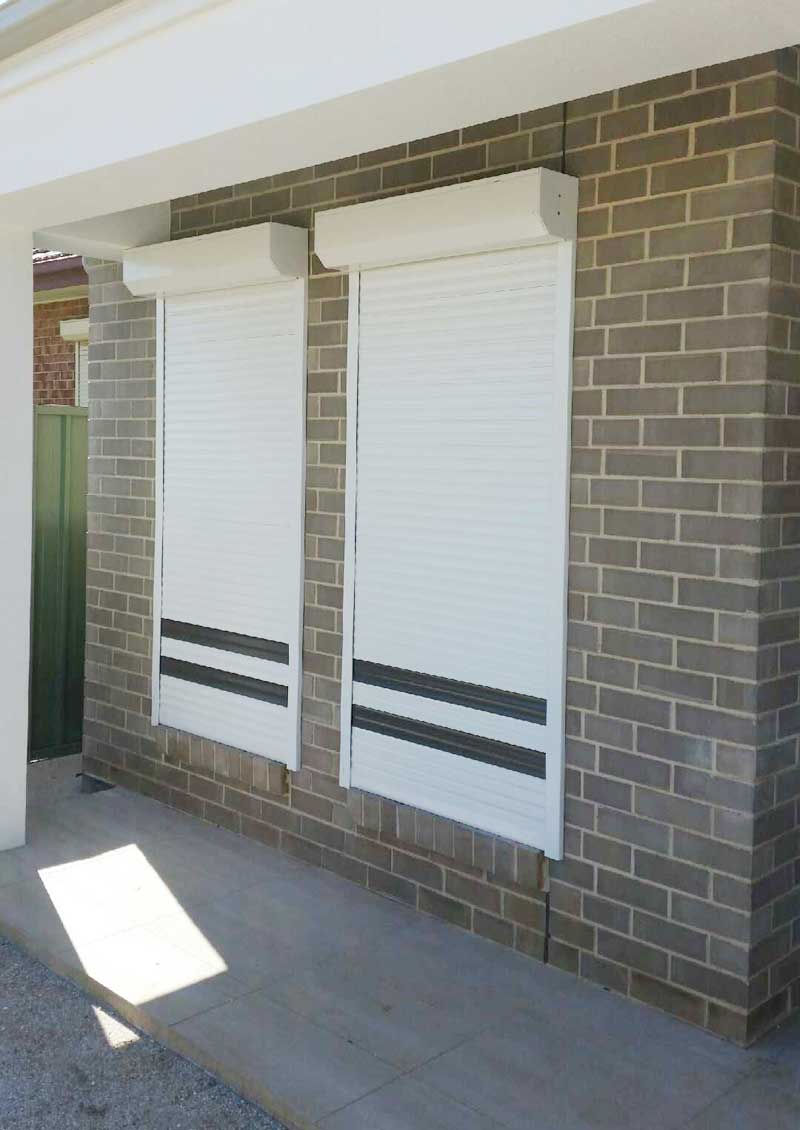 A rigid bottom rail secures the slats vertically and includes a locking mechanism. At the top, an attractive canopy protects the rolling mechanism and slats when they are rolled up.
Roller shutters can be operated manually or with a motorised assembly that can run on either mains current or battery.
What Are Roller Shutters Made Of?
Our roller shutters are made of anodised aluminium. We make them in several gauges, allowing you to select the type of shutter that will provide the amount of security and weather resistance you are looking for.
The gauge for domestic, wide-span and cyclone-rated shutters is 0.32 mm. The gauge for bushfire-rated shutters is 1 mm. Slat height is 40 mm and thickness is 9 mm in all types except the wide-span series.
The domestic options include both curved and flat slats. The curved domestic series is available in three styles: with a two-sided smooth finish, with decorative profile lines on one side and with profile lines on two sides. The flat domestic series features profile lines on both sides. Both the flat and curved styles are filled with polyurethane foam for thermal and acoustical insulation.
Domestic, cyclone-rated and wide-span roller shutters are available in 10 standard colours to complement the exterior of your home or business. There are 7 standard colours available for the box head. Customised, powder-coated colour is an option.
The wide-span shutters have a slat height of 55 mm and thickness of 11 mm. The curved profile minimises the space needed for the box head. The slats have two decorative lines on the convex side and are smooth on the opposite side. The double-walled cavity is filled with polyurethane foam.
What Are the Benefits of Installing Roller Shutters?
There are many benefits to installing roller shutters including increased security, providing noise control and blocking out light. In addition, our shutters provide protection from the extremes of weather, including storms, sun and cold winters. We also make bushfire-rated shutters that are certified by the Commonwealth Scientific and Industrial Research Organisation.
Security
Roller shutters provide excellent security as they completely cover window and door openings. When the shutter is down, it's locked from the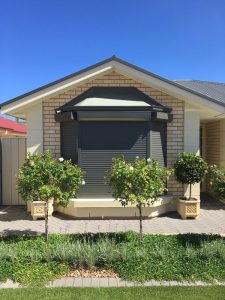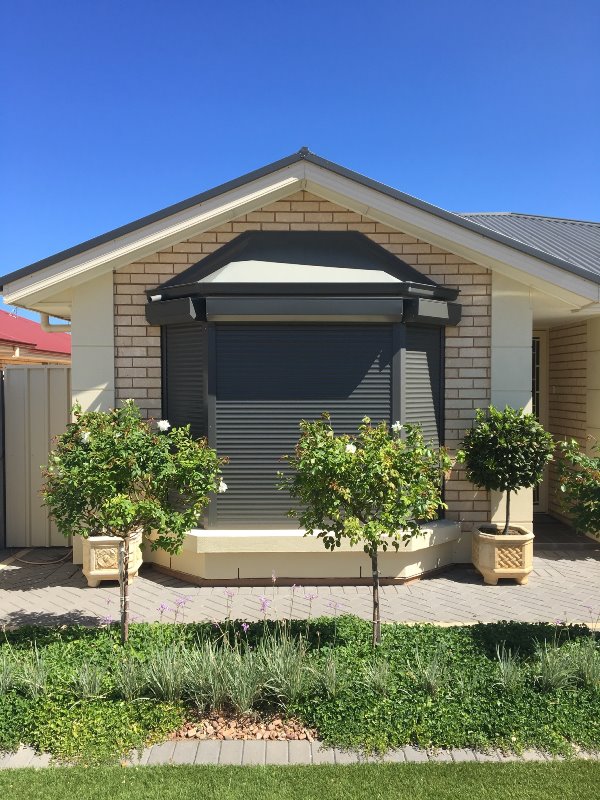 inside to prevent entry. The heavy-duty materials and close fit of the panel to the track make roller shutters difficult to break through or vandalise. In addition, the solid front provides a visual barrier so would-be thieves can't see what's inside.
Noise Control
When rolled down, roller shutters have sound-dampening benefits. If you live on a busy road or need to reduce exterior noise, studies show that roller shutters can block between 50% and 80% of noise. In addition, they keep interior noise from disturbing nearby residents.
Light Control
Roller shutters have several options for light control. They're a good choice for those who need to block out daylight or exterior night lighting. Each slat is perforated at the top to allow both light and air to pass through. When the curtain is lowered to just above the ground or window sill, the slats are not completely locked. This allows light to pass through the perforations. If you want to take advantage of the room-darkening feature, lower the shutter completely to the ground or window sill so that the slats lock into place and cover the perforations.
Weather Protection
Roller shutters are excellent barriers to weather. They keep windows from rattling, provide a rigid barrier against wind and wind-blown debris and keep rain from blowing in. During cold weather, they also prevent drafts. In hot weather, their insulating properties reduce solar gain. Overall, they reduce thermal transfer by 90%. In fact, your air conditioning and heating bills may go down as much as 30%!
Our cyclone shutters are rated to withstand Category 3 cyclones, which are storms with strong, destructive winds that gust between 165 and 224 km/h. These shutters are made of double-walled slats injected with high-density foam during manufacture. Assemblies with HDF centres and restrained guides meet Australian Standards for cyclonic wind resistance.
Restrained guides substantially strengthen resistance to wind and other high-intensity forces that might separate the slat from the guide. They are also available with HDF centres with unrestrained guides.
Bushfire Protection
If you live in an area that is prone to bushfires, our bushfire roller shutters are rated as bushfire attack level 40 by the CSIRO. During testing, they withstood burning embers, direct fire and exposure to radiant heat levels of 40kw/m2 for 60 minutes. By keeping burning particles out of a building during a bushfire, these shutters can protect a structure from catching fire.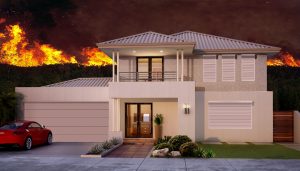 Bushfire shutters have slats with a curved profile and an attractive groove on the outer side. They're available in several standard colours with Interpon coatings that are fade-resistant and durable. Powder-coated, custom colours are also available. The double-walled bushfire slats are hollow instead of foam-filled.
Easy to Use
One of the more attractive features of roller shutters is the ease of use. Our shutters are available with either manual or motorised assemblies. Motorised shutters can be operated by remote control or a wall switch.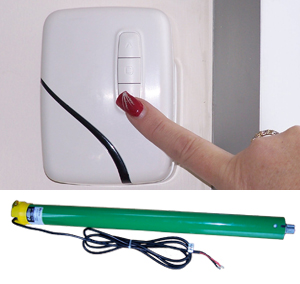 Manual models are raised with a winder handle or cords. We carry all necessary parts for both motorised and manual operations.
Our custom-made shutters are measured to exact specifications. We make them locally and install them. In addition, we provide cleaning and repair services to make sure your roller shutters continue to perform over decades of use. We can convert manual roller shutters to motorised assemblies that run on either battery or mains current.
How Much Do Roller Shutters Cost?
Each roller shutter is custom-made. The size of the shutter and the options you choose determines the cost. We quote a price after we complete the free, no-obligation consultation.
We guarantee the best price in Adelaide against any bona fide quote. For those who qualify, we offer an extended payment plan with interest-free financing.
Roller Shutters For Business
Roller shutters are well-suited for offices, warehouses, car parks and shops. They provide excellent security and protection from wind, rain and fire. The wide-span shutters work well on large openings, adding more strength and enhancing aesthetics.
As part of our initial consultation, we will analyse your security needs, budget and size of the area to be covered to determine the best roller shutter for your business.
Are Roller Shutters Easy to Maintain?
As with any equipment, maintenance keeps components in good working order and extends the service life. Shutters can be cleaned using soap and water. If your shutters are motorised, they should be checked and tested every year to ensure they work properly. We offer cleaning and maintenance service to keep your shutters looking good and performing properly.
FAQ
Read below some of our most frequently asked roller shutter questions.
Can I use roller shutters on large windows?
Domestic roller shutters have a maximum width of 3.6 m. If your windows are wider, we recommend using either two domestic shutters installed side by side or a commercial shutter.
Can they be used as garage doors?
Although residential roller shutters are not suitable for use as garage doors, commercial roller shutters can be used.
How much headroom is required?
Each type of roller shutter rolls up into a different size. The size of head plate required is calculated for each opening and takes into account the height of the door, the volume of the shutter when it is rolled up and other variables. We provide specifications during our on-site analysis.
How long does it take to install roller shutters?
After our on-site consultation, it takes just three to five business days to manufacture and install your new shutters. Installation time depends on the size of window and type of shutter. In general, one hour per window is enough to install the shutters.
Do you provide a roller shutters repair service?
We provide repair service seven days a week and stock parts for all types of roller shutters. We do not charge a fee to come to your home to evaluate the problem.
We provide a quote at that time for the cost of repair. We also can mail parts to you if you know what you need. We provide technical support for self-repair. Parts and repairs are guaranteed for one year.
About Us
Open'n'Shut are a family-owned business that have supplied Australian-made, high-quality roller shutters to clients for over 20 years.
We custom-make several types of roller shutters, including bushfire-rated shutters, cyclone-rated shutters and shutters that cover wide spans. We support our product with a 5-year guarantee and a one-year guarantee on repairs.
We're open 7 days a week and are happy to answer your questions about the quality, appearance, price and installation of our shutters. We evaluate your needs and provide free, no-obligation quote.
Paul Vafiades
7. November, 2023.
Great team from start to finish work was excellent would recommend them to anyone
Shani S
28. October, 2023.
Open N Shut were fabulous - good price, great service, and I'm really happy with my new roller shutter and screen door. Definitely recommend.
Mathew Devine
14. September, 2023.
Wanted new roller shutters, so I contacted Open N Shut. It's really quick to get someone out to me . The person who arrived (Will) explained everything very well and I even got an EOFY discount. All were made to my requirements in SA. All were delivered and installed in no time. Highly recommended
Anthony White
31. August, 2023.
Great choice if you're looking for shutters and blinds. Highly recommend. Great customer service, good workmanship and friendly people. It's a rarity these days. They will be back to do more work in the future.
Chris Kelly
17. August, 2023.
I highly recommend this fantastic family owned company! I have used them multiple times now for screen doors and blinds and have always been happy with every aspect - workmanship, price, professionalism and communication. 😊🙌
Jodie Watson
17. August, 2023.
I had Open N Shut come out and install a security screen for my front door and two roller shutters. Great service from the quote right through to installation. No mess left behind, quick turnaround and unobtrusive installation. Highly recommend. I'll be back for my internal roller blinds 😀
Karen Squire
5. August, 2023.
I had a shutter installed by Open N Shut 3 years ago, the service and product supplied I can not fault. Recently decided to install motorised black cafe blinds on the patio and another shutter on the front of the house. I again went to Open N Shut. From quoting to installing the communication, service and installation on every aspect was 10/10. Highly recommended.
Get a free in-home measure and install quote from Open N Shut.
We could have your Roller Shutters installed in less than 7 days!