Outdoor roller blinds are well known for their multiple benefits and the capacity to transform any patio or deck into another room. Also, they add an extra style to your home thanks to their wide range of colours and materials. But do you know how to buy the best outdoor blinds for your home? Here's the ultimate guide with tips to consider when getting outdoor shade blinds:
1. Weather conditions:
If you live in cities like Adelaide or Perth, outdoor blinds are a perfect solution to enjoy the outdoor areas of the house during the whole year without worrying if the climate is too hot or too cold. 
Patio outdoor blinds in Adelaide can protect you and your loved ones from the harsh sun rays during summer and work as a shelter from winds and rain. 
Outdoor Blinds in Perth are designed to have more protection from harsh direct sunlight and will keep you in shade on your patio all through the hot summer.
As you can see, if you are planning to use your outdoor area most of the year, outdoor roller blinds are a good option thanks to their amount of coverage.
2. Type of Material:
The fabric of the blind is a significant factor to consider when planning on getting outdoor blinds for your home. PVC outdoor blinds provide a weatherproof seal, while mesh outdoor blinds allow air circulation throughout the area. At the same time, they provide protection from the harsh Adelaide and Perth climates but also have a cooling effect.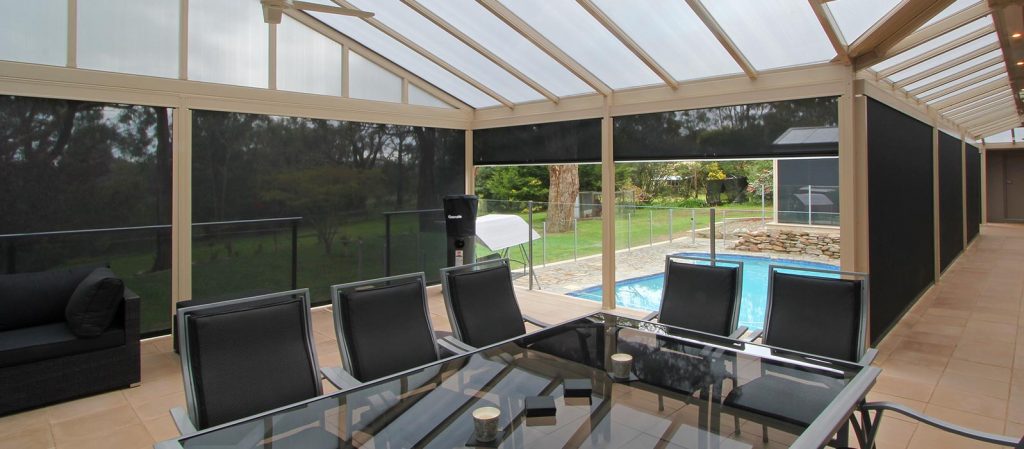 3. Outdoor Roller Blinds Cost:
The material type will impact the cost of outdoor blinds; at Open 'N' Shut, we understand that every client has a different budget, so we offer a wide range of materials and price options that will suit your needs and your finances. As we oversee the whole process from design to installation, we guarantee the best value for money and the highest quality blinds from our professional team of designers, customer service representatives and outdoor blind installers.
4. Size of the outdoor area:
Confused about which outdoor blind will suit better your patio or balcony? Our friendly consultants will give you professional advice on how to choose the best blind suited to your outdoor area. Further, they will listen to your needs and ask questions to understand what you are trying to achieve (e.g. shade protection, privacy etc.).
They will then talk you through the different fabric options and their benefits. Besides, they can show you samples and discuss the control options available so you can make an informed choice.
5. Easy of operation:
If you are planning to use outdoor blinds for the patio all year round, we advise you to get retractable blinds outdoor; they will give you the freedom to roll up the blinds to feel the cool breeze and sunlight during the warm days and to roll them down when the weather gets raining or windy.
Why Open 'N' Shut:
Open 'N' Shut provides the best quality outdoor blinds and awnings in the Adelaide, South Australia and Perth, WA regions. From our local Adelaide workshop, we service all areas throughout South and Western Australia. We provide a wide selection of locally manufactured outdoor blinds in Adelaide in a wide range of modern and traditional styles to suit any home. We build all our designs locally with 100% Australian sourced materials. 
Our professional and experienced team creates custom outdoor roller blinds that offer the best home shade solution, allowing you to relax and enjoy your home.  Contact us today for your FREE measurements and quote!