Plantation shutters are one of the most beautiful additions to your home as they add an extra touch of style, functionality and light control to your home. As with any item you bring home eventually you will have to clean your plantation shutters and do it well to preserve their quality.
Keep reading to find out how to clean plantation shutters Adelaide:
Dusting regularly:
Internal and external plantation shutters usually gather dust and can get quite dirty, depending on the weather conditions, so, it is essential to clean them regularly.  
To ensure the right way to remove dust from the plantation shutters the first step is to wipe off each slat of the plantation shutters with a microfiber cloth, which is quite soft and won't let any marks on the shutter slats. Another way to remove excess debris from the shutters is using a vacuum with a dry brush attachment on a low setting to clean each slat.
Pro Tip:
Always start cleaning your Adelaide plantation shutters from top to bottom, as the dust and debris from the top slats will settle on the lower ones. Also, make sure to clean the windowsill as dust will settle down there, too.
Clean with a damp cloth:
Once you've removed as much debris and dust as possible, the next step is to wipe down the plantation shutters with a damp cloth. It will help to remove any remaining dirt from them.  
To complete this step, you can use a solution of 50% water and 50% white vinegar with a dash of mild dish soap. Furthermore, in this step, we recommend paying attention to removing the remaining dirt on the hinges and corners of the louvres. To do this, you can use the help of an old toothbrush to get into cracks and crevices. 
Pro Tip:
We suggest doing this step on the external plantation shutters at least once a month to prevent dirt buildup. If you live in an area of extreme weather, we suggest cleaning the shutters more regularly to protect the quality of their vinyl and paint.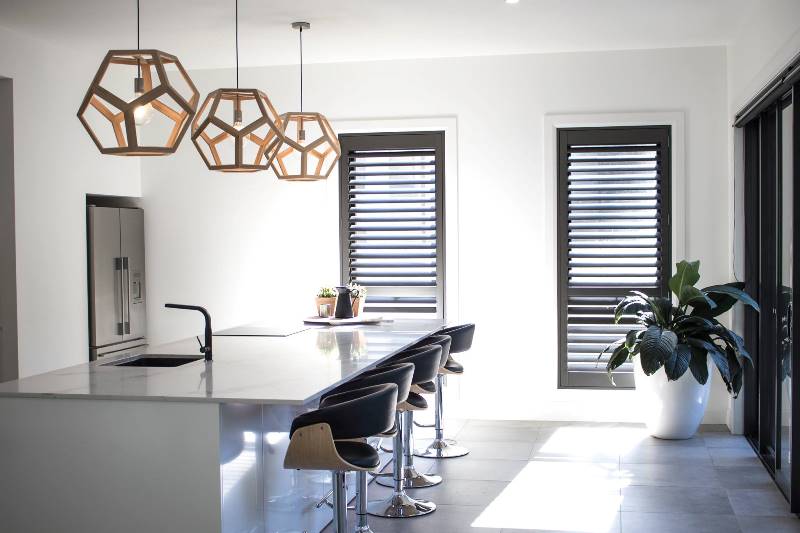 Let the plantation shutters dry:
Once you have fully washed your shutters, you have to confirm they will dry properly. We do not recommend leaving water on them as it could end in spotting and water damage on the slats. 
On the other hand, by drying your plantation shutter properly, you will prevent dust from getting stuck on areas you have previously cleaned. In that case, we suggest leaving the plantation shutters Adelaide open if it is a sunny day and letting the fresh air do the job. If the weather is not that great, you can blow dry the louvres with the help of a fan.
The best plantation shutters Adelaide are from Open N Shut:
Open N Shut plantation shutters are available as Australian-made or imported options. Built to last by fully qualified shutter specialists, we are confident in the quality and longevity of our products. 
The choice is yours! Make sure to pick the best plantation shutter manufacturer and, we will give you great pricing options. Get in touch with us today and find out how much you can save with Open N Shut plantation shutters Adelaide.
get in touch with us today and find out how much you can save with Open N Shut