If you're looking to give your suburban home in Adelaide or Perth an edgy and modern feel, industrial interior design might be just what you need. This style embraces raw materials, utilitarian objects, and a simple, stripped-down aesthetic. And what better way to enhance the look than to install sleek grey roller blinds?
Why Grey Roller Blinds?
Grey is a versatile and sophisticated colour that complements many industrial design motifs. It can create a neutral backdrop against which other distinctive design elements can stand out. Roller blinds are a great choice because they're practical, affordable, and easy to install. They can also be customized to fit any window size, making them ideal for large or oddly shaped windows.
For a truly industrial look, consider pairing your grey roller blinds with metal or wood furnishings, exposed brick or concrete walls, and vintage lighting fixtures. You might also incorporate other shades of grey, along with black, white, and natural colours like brown and tan.
Open N Shut Roller Blinds For Your Home or Business:
At Open N Shut, we offer a wide range of quality roller blinds in different styles, fabrics, and colours to match your specific home design preferences. We also pride ourselves on providing excellent customer service and expert installation. So if you're ready to take your suburban living room to the next level, order your custom grey roller blinds from Open N Shut today!
When it comes to window treatments that offer style, versatility, and affordability, grey roller blinds from Open N Shut are the perfect choice for homeowners in Adelaide and Perth. Designed to enhance the aesthetic appeal of any room, these blinds provide a sleek and modern look that complements a wide range of interior design styles.
Roller Blinds Adelaide and Perth:
Why are grey roller blinds ideal for people in Adelaide and Perth? Firstly, grey is a colour that effortlessly blends with various décor themes and colour schemes. Whether you have a contemporary, industrial, or minimalist aesthetic, grey roller blinds can effortlessly adapt and enhance your space, creating a cohesive and visually pleasing atmosphere.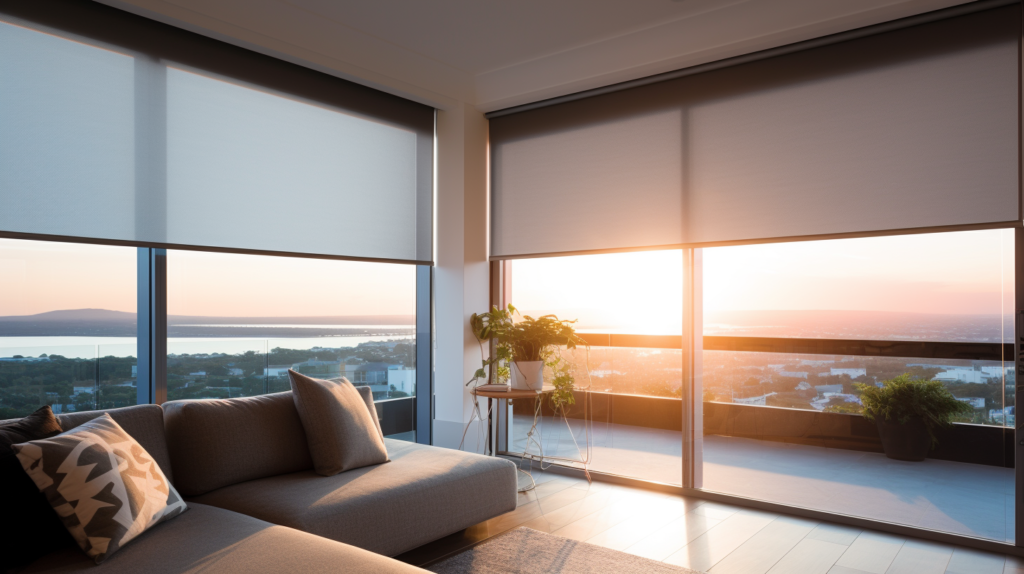 Roller Blinds Benefits:
In addition to their versatility, our roller blinds offer practical benefits. They provide excellent light control, allowing you to adjust the amount of natural light that enters your space. This feature is particularly essential in sunny regions like Adelaide and Perth, where temperature and glare control are crucial for comfort. Enjoy the flexibility of maintaining privacy while still enjoying the beautiful natural light during the day.
At Open N Shut, we understand the importance of durability and quality. That's why our grey roller blinds are crafted using high-quality materials that are built to last. Our blinds are designed to withstand the harsh climatic conditions of Adelaide and Perth, ensuring they maintain their sleek appearance and functionality for years to come.
Transform Your Space With Grey Roller Blinds From Open N Shut:
With Open N Shut, you can expect exceptional customer service from start to finish. Our team of experts will guide you through the selection process, helping you choose the perfect grey roller blinds that align with your style preferences and budget. We also offer professional installation services, ensuring hassle-free setup and a precise fit.
Upgrade your windows and transform your living space with the ideal window treatment solution – grey roller blinds from Open N Shut. Experience the perfect blend of style, functionality, and affordability. Contact us today to discover how our grey roller blinds can elevate your Adelaide or Perth home.