OUTDOOR ROLLER BLINDS
Outdoor blinds are the perfect choice for any Australian home
No FUSS! – WE WILL MATCH OR BEAT ANY GENUINE QUOTE.
Australian Outdoor Roller Blinds.
A outdoor roller blind is an ideal choice for shading your patio or balcony. They have the added advantage of needing little to no maintenance, making them a practical addition to any outdoor space.
Stopping insects, stopping harsh sun rays, escaping the hot sunshine, elements, and providing a sanctuary on your outdoor decking or patio area.
Outdoor roller blinds are easy to operate and can be opened or closed with a remote control or even an app if you choose to.
This makes them perfect if you have limited mobility or are looking for an easy way to control your outdoor patio area without having to go into the house, or get up and wind a heavy fabric up and down.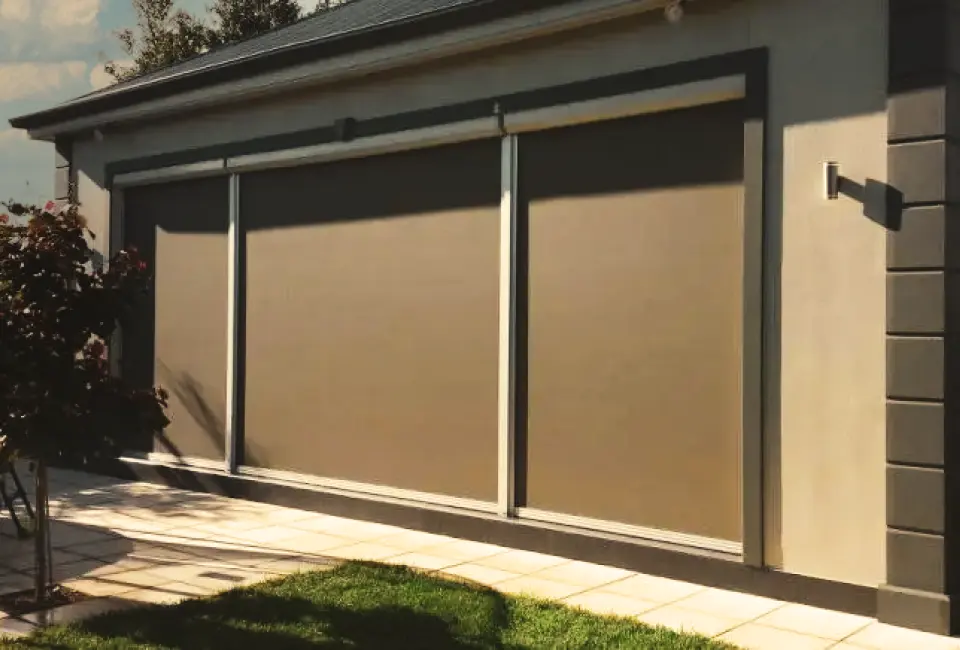 Outdoor roller blinds are a practical option for shading your patio or balcony.
Outdoor roller blinds are a practical option for shading your patio or balcony.
They're easily installed by our professionals, and they can be used in conjunction with awnings to create an attractive and functional outdoor space.
The roll-down mechanism allows you to bring in the light when needed and enjoy the breeze.
Roll-down outdoor blinds are a great option for any outdoor space in your garden area. You can open and close the blinds by hand, or you can use a remote control, wall switch or on the Wi-Fi option, including timer giving you full control of your outdoor space.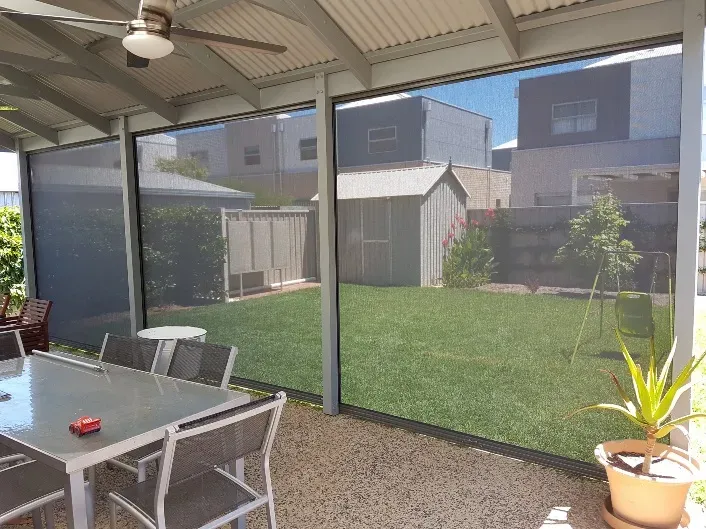 Outdoor roller blinds are a great way to keep out glare, heat and insects without sacrificing views.
Roller blinds are a great way to keep out glare, heat and insects without sacrificing views. The roll-down mechanism allows you to bring in the light when needed and enjoy the breeze.
Whether you have a outside patio deck area, outdoor pool, table tennis table or hammock you can enjoy your outdoor area in relative calm air and shade away from the heat and glare of the sun and harsh outdoor environment that Australian outdoor living can provide.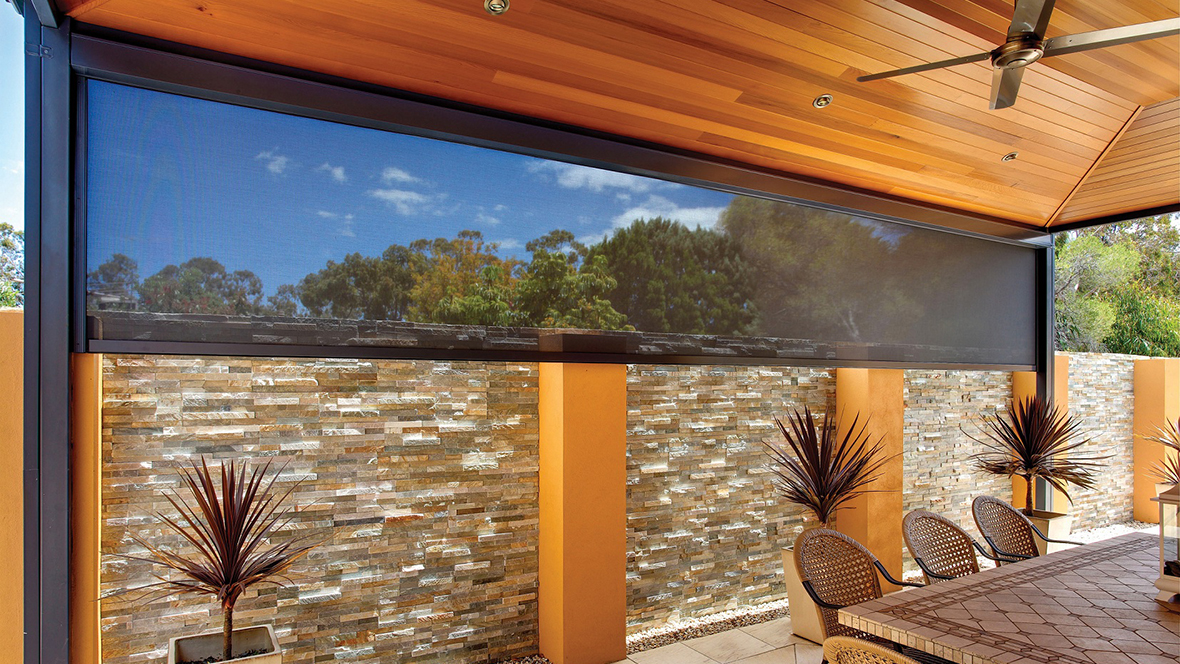 Our range of fabrics are highly durable for the Australian outdoor climates.
You can choose from a range of fabrics, including mesh and blackout blinds. The choice of fabric will depend on your needs and the space you are covering. The fabric will also affect the cost of the blinds.
If you live in an area with lots of sunlight, it might be best to get a light-filtering material that allows some light through but still provides privacy. If there are large windows or doors where people can see into your home, consider getting shades made with darker materials like blackout vinyls so that no one can see inside when they pass by outside at night or during certain times during the day when direct sunlight may be coming through those windows or doors (such as early morning).
We use a market leading PVC-coated polyester mesh which will block and reflect up to 95% of solar energy you can also opt for 99% blackout at a higher cost, to have the maximum block of the shade available, while still allowing air to pass through, helping to create a cooler, more comfortable environment.
95% Blackout: Outdoor Roller Blind Material Colour Options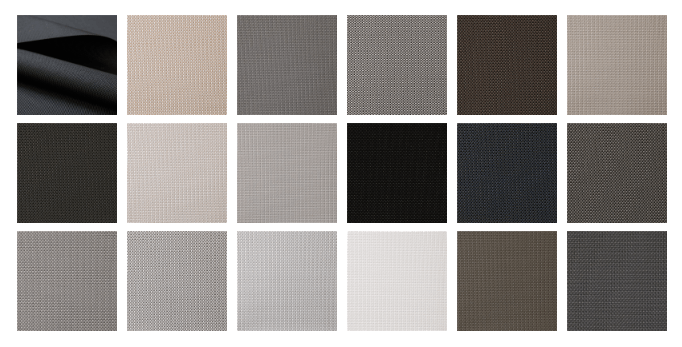 99% Blackout: Outdoor Roller Blind Material Colour Options

Types of Outdoor Blinds – Cafe Blinds, Alfresco Blinds, Veranda Blinds, Clear PVC Blinds, Pergola Blinds & Patio Blinds. These are all names for blinds and are often used when describing blinds that are fitted to outdoor areas.
Outdoor Blind Materials – PVC outdoor Blinds provide a weatherproof seal, while mesh outdoor blinds allow the circulation of air throughout the area. Meanwhile, mesh outdoor fabric blinds protect from the harsh Adelaide or Perth climate and have a cooling effect.
Manual Outdoor Blinds or Automatic Blinds – Options include manual spring-loaded blinds with a simple pulley system or choose a remote control blind option for ease of use.
A Motorised option makes it even easier to operate your outdoor roller blinds.
If you are looking for an easy way to operate your roller blinds, then motorised blinds are the perfect solution. Motorised blinds can be controlled from inside or outside of your home and they offer a range of different speeds so that you can find one that suits your needs.
Motorised blinds are also great for people with limited mobility as they don't require any effort on their part in order to open or close them. They simply need to press a button which allows them instant access into their homes without having to lift up heavy curtains or pull down rods every time they want some fresh air into their rooms!
How to make outdoor roller blinds even easier to control?
If you want to make your outdoor roller blinds easier to use, a motorised option is the way to go.
Motorised blinds can be operated from a handheld remote or via an app on your smartphone. They are also ideal if you want to keep an eye on what's going on outside without having to stand by the window all day long! You and your partner or other household members can control your blinds from the comfort of your home, or from your workplace or wherever else you are in the world.
You will want to keep the outdoor roller blinds up in high wind and stormy conditions.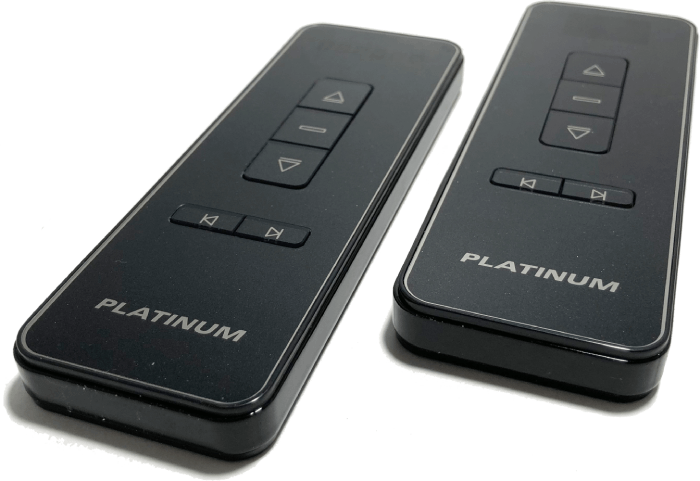 MESH blinds vs pvc blinds

Mesh is a great option for privacy and light control.
Mesh allows you to see out, but keeps others from seeing in. It's also a good choice if you want to let in air while keeping bugs out.
If your home has lots of natural light or if it gets hot during the day, mesh roller blinds may be an excellent choice for keeping things cool inside your pergola without sacrificing privacy or security.
You still have the luxury of seeing outside whilst no-one can see anything. A perfect security and privacy option. The material is specifically designed to withstand temperatures, not warp or fade and be easy to clean and maintain.
PVC or clear awnings are made of clear plastic and provide your windows with protection from the elements. However,
Clear awnings are not all UV resistant
they can fade over time
they can suffer from discolouration over time
non-breathable material
scratch easily
change shape which means they wont roll up correctly
They also can become much hotter and focus sunlight to unbearable high temperatures on hot days like a glass greenhouse would do.
They might not be the best option compared with newer mesh material that is a perfect outdoor blind option engineered to work better with Australian climate and lifestyle.
Outdoor blinds Adelaide & Perth

We have offices in Adelaide and Perth, Australia. We come to you, with our mobile sales teams and will give a free quote and measure for you.
Give us a call or get a quote using our contact form and we will be in touch.