Article Highlights
South Australia is the most popular State of Australia for Outdoor Blinds, closely followed by Western Australia.
People interested in Outdoor Blinds also have a keen interest in Patios, Awnings, Window Shutters and Shade.
Queensland and New South Wales are some of the more popular states but have much less takeup compared to SA and WA.
Many homeowners see the huge benefits that outdoor blinds create for their home/garden and are growing massively in popularity.
Why have Outdoor Blinds Become So Popular?
Google Trends is a good place to get an idea of how many people are searching for specific search terms and phrases around the world. It is a good place to go when you are looking for current trending topics, like a major world sporting event such as the world cup, specific celebrities that might be in the news or any other trending terms.
When we look at "Outdoor Blinds" as a search term there is some interesting insights to be found.
Since 2004, Outdoor Blinds have grown massively in popularity. And even over the last 12 months its significant in growth.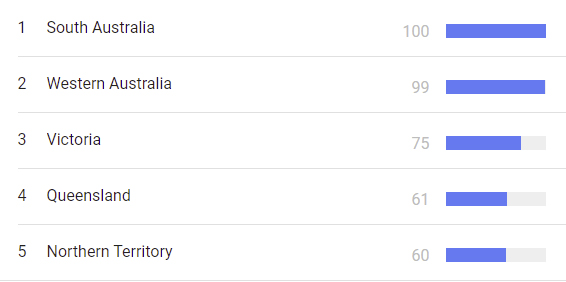 These increases are scored on a relative basis and the increase shown represented an increase in searches related to outdoor blinds across the whole of Australia.
You can see the breakdown by state also, which shows there is varying amounts of popularity state by state with South Australia and Western Australia being the two most popular places for searches to appear from, despite not being the most population rich.
What is the increase in popularity down to and why in these areas specifically?
From our own understanding of the market, what we see happen with our customers after outdoor blinds are fitted in their home, and after visitors show up and see how great they are for their home and the control it gives to the outside space… people start searching and looking into getting some for themselves.
Open N Shut always get a lot of recommendations from previous customers referring family and friends, this accounts for a lot of work for us and we are always more than happy to oblige with word of mouth recommendations for outdoor blinds.
Imagine this simple knock on effect throughout a densely populated city and suddenly before you know it all homes and businesses are wanting outdoor blinds for their premises.
This increase seems to be occurring more and more over the last year with so many searches for outdoor blinds lately. Interestingly, if this same effect happened in a high population city such as Sydney or Melbourne it could rapidly increase the market.
Its unsurprisingly really but interesting that people who are also interested in outdoor blinds are also interested in Awnings, window shutters, shade/shadow for their homes.
These things go hand in hand as outdoor blinds are attached to patio/awnings or pergolas. After building an outdoor frame the outdoor blinds are then fitted.
Searches for the shade make sense because people know just how good the outdoor blinds are at ensuring you have a shaded area away from the sun glare, interesting to note that a lot of people get outdoor blinds not just for the shade but for the added bonus of keeping out insects, flies etc, for privacy and temperature control.
With outdoor blinds it is best to have a product that is good value for money, the last thing you want to do is choose a fabric that doesnt block out the sun very well, it needs to be weatherproof, heat proof and durable to ensure it cannot rip, whilst keeping out the sun and elements of the Australian climate.
The outdoor blind products from Open N Shut are exactly all of those things and not as expensive as some other DIY materials that are chosen.
Having the blinds installed by a professional will also ensure that issues with the intricate rolling blind mechanisms are reduced and cause no issues in the long term. Blinds can become warped or can become unlevel if the roll blind material does not roll up correctly. Our installers know the exact best method to ensure that cannot happen and ensure your blinds will last years to come.
Give Open N Shut a call today to see how we can help quote, supply and install some custom made outdoor blinds for your home.
Call us on 08 8250 5163
Open'N'Shut for your roller shutters, plantation shutters, outdoor blinds, window furnishings & security doors
Get a quote for your outdoor blinds or any of our products: